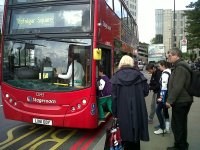 At next Tuesday's Policy meeting, London TravelWatch will be examining bus speeds in London following an analysis of TfL data which reveals the average speed of every bus in London.
'The results, which are drawn from TfL's i Bus data, make fascinating reading with average bus speeds for different London bus routes varying between 5.4 mph and 23.1mph' said Stephen Locke, Chair of London TravelWatch.
Stephen continued: 'Both reliability and journey time are really important to bus passengers. There are also benefits to TfL in terms of its operational costs if it can get some of the slowest buses to operate just a little faster. We will be looking at this data and challenging TfL to bring about improvements. There is also an important role for London boroughs where bus routes run on the many roads for which they are responsible.'
Other items on the agenda include the headline findings of research on transport affordability carried out jointly by London TravelWatch, London Councils and Trust for London and proposals by the London Borough of Hounslow relating to the southern rail route to Heathrow Airport.
The meeting will take place at 169 Union Street, London, SE1 0LL on 20 October 2015. It will begin at 9.30am and end at approximately 12.30pm. The agenda and papers are available on the London TravelWatch website. You can follow live tweets from the meeting – we will be using #ltwpolicy.
About London TravelWatch
London TravelWatch is the official watchdog organisation representing the interests of transport users in and around the capital. Officially known as London Transport Users Committee, we were established in July 2000.
London TravelWatch is sponsored and funded by the London Assembly, which is part of the Greater London Authority, and is independent from the transport operators. The Assembly also appoints the board members of London TravelWatch, supported by staff who carry out the day-to-day work.
London TravelWatch promotes integrated transport policies and presses for better public transport, with higher standards of quality, performance and accessibility. We liaise with transport operators, providers, regulators and local authorities. In turn, transport operators consult us on proposed changes to services or closures of lines or stations.
Our Board and Committee meetings are open to the public. For more information on meeting dates please view our calendar.
We can assist with complaints about transport in London when the service provider has not satisfactorily resolved them. We deal with services operated or licensed by Transport for London, which includes:
London Underground
London's buses
Docklands Light Railway (DLR)
Croydon Tramlink
Dial-a-Ride services
London River Services
Woolwich Free Ferry
taxis
private hire cars
most of the major roads in Greater London
In addition, we deal with services operated by:
National Rail companies
Heathrow Express
Eurostar