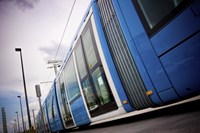 The latest Tram Passenger Survey (TPS) shows that passengers rate their trams highly with an overall satisfaction score of 93 per cent.
The TPS, conducted by transport user watchdog, Transport Focus, covers the tram networks in Blackpool, Edinburgh, Greater Manchester, Nottingham, Sheffield and the West Midlands.
David Sidebottom, Transport Focus Director, said: "Tram travel is becoming a benchmark for excellence in transport success. Their overall scores are well over the 90 per cent mark. By comparison our latest bus survey is 87 per cent and train survey 81 per cent. Edinburgh Tram, in particular, should be rightly proud of its 99 per cent satisfaction score.
"But there are challenges which the tram operators should manage in future to maintain their high satisfaction scores. Expansion of the network in certain places causes some reduction in satisfaction, particularly if the subsequent disruption is not handled well. Once complete, satisfaction normally rises, but operators should not take this for granted.
"The other challenge arises from these expansions. As we have seen on four networks (Manchester, Nottingham, West Midlands and Sheffield), they become more popular and then more congested. We have seen that the satisfaction rating on the amount of personal space has fallen since last year. If they don't manage the demands of their success, satisfaction with services may fall and they could even lose passengers."
The survey provides important feedback for the operators by pinpointing where they can improve the passenger experience. In Edinburgh, for example, the survey showed passengers were not very satisfied with the frequency of the service, so Edinburgh Trams increased the frequency.
The latest survey shows that the top factors that make for a satisfactory journey are length of time waiting for the tram and punctuality. Factors relating to the inside of the tram itself make for a great journey.
About Transport Focus
Transport Focus is the independent consumer organisation representing the interests of:
all users of England's motorways and major 'A' roads (the Strategic Road Network)
rail passengers in Great Britain
bus, coach and tram users across England outside London.
We work to make a difference for all transport users.