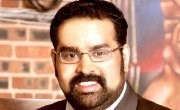 Passport, the leader in parking and transit technology systems, today announced Akshay Pottathil has joined the Board of Advisors to provide insight on the company's international expansion and scaling strategies. Pottathil brings extensive experience in the security, trade, tourism, and hospitality industries, currently serving as Co-Director of the Center for Information Convergence and Strategy (CICS) at San Diego State University (SDSU) and is the Co-Founder and Director of Innovation & Strategy of the Center for Entrepreneurship and Innovation (CEI) at the University of Dubai. He was also recently appointed Director of Digital Borders by the BORDERPOL and as Co-Director of the Master of Homeland Security Management Program at the Lyceum of the Philippines University. As a distinguished lecturer and co-director of several global research centers, his lectures on data fusion, pattern recognition, geospatial intelligence, behavior analysis, and strategic security have been given to senior government officials in North America, Europe, Southeast Asia, and the Middle East.
Passport's software platform enables both public and private agencies to analyze fundamental components of their operations. It has been on the forefront of the convergence of parking and transit applications and continues to drive deeper linkages among aspects of these value chains for governments across North America. Its mobile payment and B2B/B2G management applications are currently used in North America's largest cities.
"Mobile technology for parking and transit is becoming more sophisticated and in higher demand across the globe. Passport has proven itself to be a clear leader of mobile technology platforms in North America, serving both growing and mega-cities its services. Passport's technology is being rapidly embraced in international markets as the company continues to grow," said Pottathil.
The announcement comes as Passport prepares to launch its services with various agencies in the UK.
"We're proud to welcome Akshay Pottathil as a distinguished advisor for the company. Pottathil brings expertise in security, hospitality, and trade that will be a valuable asset in Passport's strategy of international growth," said Khristian Gutierrez, Chief Business Development Officer at Passport. "We're excited to work alongside Akshay to continue introducing our mobile solutions to new markets."
About Passport
Passport is North America's leading mobile technology company specializing in enterprise business applications and payments for the public and private sector. Passport's product lines--parking payments, transit payments, enforcement and permit management--collectively serve to deliver dynamic tools for agencies to better connect with their communities. Its services have been adopted by over 20 of the top 50 cities in North America and over 2,000 locations including Chicago, Toronto, Boston, Portland, and Miami. Passport's mission is to reduce operational complexity and deliver intelligent data to improve decision making for its clients.
Passport is backed by a group of investors, including Grotech Ventures, Relevance Capital, and MK Capital. For more information, please visit www.passportinc.com.