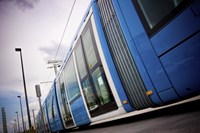 The Charlotte Area Transit System (CATS) has launched the CATSPass app, a mobile pilot solution for LYNX Blue Line light rail fare. The CATSPass is powered by Passport, the industry leading mobile payments provider for transit and parking. With CATSPass, riders can pay for their light rail passes all within the app.
Riders are able to pay for their transit fares directly through their secure CATSPass account using their credit or debit cards. Riders can also add cash funds to their mobile app by visiting the Charlotte Transportation Center in Uptown. CATSPass users can then use their mobile ticket to board the LYNX Blue Line or store their tickets for later use with the in-app Ticket Manager feature.
"Our goal with the CATSPass mobile app is to make riding transit more convenient through the use of technology and this new app allows customers to purchase passes anytime, anywhere with their smartphone," said CATS CEO, John Lewis. "It also allows CATS to ensure all of its mobility options and technological innovations are accessible to all of our customers."
"As a Charlotte-based company, Passport is thrilled to partner with CATS to provide a mobile payment solution for the LYNX Blue Line," said Bob Youakim, CEO of Passport. "There is tremendous amount of value for our team and the community at-large in being able to ride CATS using the system we built together. We're proud to be a part of such an exciting time for the City of Charlotte and look forward to supporting CATS as a technology partner."
The CATSPass app is free to download through the App Store and Google Play.
About Passport
Passport is the industry's leading mobile technology solution specializing in enterprise business applications and payments for the public and private sector. Passport's product lines–parking payments, transit payments, enforcement and permit management–collectively serve to deliver dynamic tools for agencies to better connect with their communities. Its services have been adopted by over 300 agencies on over 3,000 locations globally. Passport's mission is to reduce operational complexity and deliver intelligent data to improve decision making for its clients.
Passport is backed by a group of investors, including Grotech Ventures, Relevance Capital, and MK Capital. For more information, please visit www.passportinc.com.