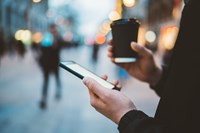 Riding transit just got easier. The City of Albuquerque today announced the launch of "ABQRIDEtix" mobile ticketing application. The mobile app is powered by the global leader of mobile payments for parking and transit, Passport, serving cities and universities throughout North America. With the introduction of the ABQRIDEtix app, the City of Albuquerque's goal is to deploy a total city-wide transit solution that provides a quick and simple mobile payment option for residents and visitors.
With ABQRIDEtix, users can now purchase transit fares from their smartphone device without having to physically be at the kiosk. The convenience of handling transit ticketing through a mobile device provides users with efficiency and speed they want while paying and managing their transit experience.
With the app, users can take advantage of the following benefits:
Skip the kiosk line and purchase transit fare directly from mobile device
Use mobile ticket to board transit or store for later use
Manage purchases or transit history in the app
"As a public transportation innovator, the City of Albuquerque is aiming to solve the common pain points users experience when riding transit," said Stan Low, IT division manager for the City of Albuquerque. "By partnering with Passport, we are able to provide an efficient, affordable, and alternative payment option for our community with the ABQRIDEtix mobile application. We're proud to continue to expand our footprint as an industry trailblazer."
"Passport is thrilled to bring a convenient mobile ticketing solution to the great City of Albuquerque," said Tydus Mana, client success manager at Passport. "As a City rich in public transit history and a clear innovator in the transportation space, it is a momentous time to be a part of the City's future transportation initiatives."
The ABQRIDEtix app is free to download from the App Store and Google Play.
About Passport

Passport is North America's leading mobile technology company specializing in enterprise business applications and payments for the public and private sector. Passport's product lines parking payments, transit payments, enforcement and permit management collectively serve to deliver dynamic tools for agencies to better connect with their communities. Its services have been adopted by over 20 of the top 50 cities in North America and over 2,000 locations including Chicago, Toronto, Boston, and Portland. Passport's mission is to reduce operational complexity and deliver intelligent data to improve decision making for its clients.
Passport is backed by a highly respected group of investors, including Grotech Ventures, Relevance Capital, and MK Capital. For more information, please visit http://www.passportinc.com.