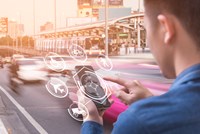 Passport, a leading mobility management company, received the 2019 Consumer Payments Innovation Award by FinTech Breakthrough, for its platform that enables cities to facilitate mobility payments for parking, transit, tolling and micro-mobility.
FinTech Breakthrough is an independent organization that recognizes the top companies in the financial services and technology industries. In 2019, FinTech Breakthrough received more than 3,500 nominations which were reviewed, evaluated, scored and judged by a panel of experts in the fintech industry. Previous FinTech Breakthrough Award winners include Square, Chase, PayPal and Adyen.
Passport works with more than 600 clients worldwide, enabling cities to create one to one connections with citizens through innovative technology solutions. With a foundation in mobile payments for parking since 2010, the company extended into facilitating payments for transit mobile ticketing, digital permits and cloud-based enforcement, all within one cohesive platform. In total, Passport has processed more than $1 billion in transportation-related payments.
"For nearly a decade, Passport has been helping cities manage their mobility ecosystems by facilitating transportation transactions," said Bob Youakim, Passport CEO. "We are honored to be recognized for our payments platform on a national scale and we will continue to help our clients easily collect and track payments and provide a digital, streamlined service for their citizens."
This award is the latest in a series of honors for Passport, including the Deloitte Technology Fast 500, Inc. 500 and Charlotte Business Journal Best Places to Work.
About Passport
Passport is transforming mobility management for cities, empowering them to create more livable and equitable communities. Passport's mobility platform enables clients to digitally coordinate all modes of transportation and implement real-time, data-centric management of their curbside and streetspace through its enterprise software. Trusted by more than 600 cities, universities and agencies, including Chicago, Toronto, London, Los Angeles, and Miami, Passport is one of the fastest growing companies on the Inc. 500 and Deloitte Technology Fast 500 lists. Passport is backed by Bain Capital Ventures, Grotech Ventures, MK Capital, and Relevance Capital.