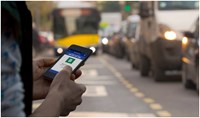 The Greater Cleveland Regional Transit Authority (RTA) launched a new way for riders to pay for transit fares. The RTA CLE app for mobile ticketing lets riders skip the lines and pay from their phones.
Mobile ticketing is a pilot program now available for use on all RTA services. The RTA CLE app is free to download from the iPhone App Store and Android Google Play.
This new initiative is part of RTA's overall mission to provide safe, reliable, clean, and courteous public transportation to its riders. With sustainability as one of RTA's guiding principles, this new paperless form of payment is an additional way to optimize transit's impact on the environment and provide a greater convenience to riders.
The new app is powered by Passport, the leading mobile payments provider for transit and parking. Passport has launched mobile ticketing solutions in other cities, including Sacramento, CA, Jacksonville, FL, and Columbia, SC.
With the new RTA CLE app, RTA riders can easily plan and pay for their trip on their phone. Transit riders can even use the app's interactive map screen to coordinate their RTA ride ahead of time.
Using their secure RTA CLE account, riders can add their credit card information to pay for their pass. Riders can then use their mobile ticket to board transit or store their ticket for later use with the app's Ticket Manager feature.
"We are happy to introduce this convenient, new technology to our customers," said Joe Calabrese, RTA's CEO and General Manager.
"This mobile ticketing solution gives our riders a more convenient option for fare purchases and a more efficient way to plan their trip ahead of time," he said. "We're excited to continue to improve upon our rider experience and make traveling around Cleveland that much more convenient and better."
About Passport
Passport is North America's leading mobile technology company specializing in enterprise business applications and payments for the public and private sector. Passport's product lines parking payments, transit payments, enforcement and permit management collectively serve to deliver dynamic tools for agencies to better connect with their communities. Its services have been adopted by over 20 of the top 50 cities in North America and over 2,000 locations including Chicago, Toronto, Boston, and Portland. Passport's mission is to reduce operational complexity and deliver intelligent data to improve decision making for its clients.
Passport is backed by a highly respected group of investors, including Grotech Ventures, Relevance Capital, and MK Capital. For more information, please visit http://www.passportinc.com.