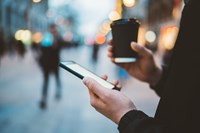 Passport and the City of Tucson will split the GoTucson mobile application's parking and transit functions into two separate mobile apps, GoTucson Parking and GoTucson Transit. Splitting the application into two will enhance the user experience and improve app functionality. The GoTucson Parking and GoTucson Transit apps will be available on July 20 for download to make traveling in Tucson easier than ever.
The dedicated mobile applications will provide users with a streamlined user experience, a smoother and simpler interface, and quicker response times for both parking and transit processes.
With the GoTucson Transit app, Tucson residents and visitors can purchase their transit passes anywhere, thereby avoiding lines at the kiosks at the streetcar stops, transit centers and sales outlets. Through the GoTucson Parking app, drivers can pay, extend and manage their metered parking sessions using their smartphones, reducing the risk of parking tickets.
Both apps allow users to easily manage their transit or parking experience with a few taps on their mobile devices.
"Passport is proud to continue its partnership with the City of Tucson," said Drew Myers, Director of Operations at Passport. "By splitting the mobile applications into GoTucson Transit and GoTucson Parking, we are able to improve app functionality and design, making the overall experience faster and more intuitive."
For users who previously downloaded the GoTucson application, the updated app will be switching over to a phone-number-only login system. To avoid interruptions, current app users should go to the "Profile" section of the application to add a phone number. Users that do not have a phone number on their account will need to create a new account after the applications are live.
Users can also manage their parking and transit experiences via the web at www.gotucsonapp.com.
Download the free GoTucson Parking app through the App Store and Google Play.
Download the free GoTucson Transit app through the App Store and Google Play.
About Passport
Passport is the industry's leading mobile technology solution specializing in enterprise business applications and payments for the public and private sector. Passport's product lines--parking payments, transit payments, enforcement and permit management--collectively serve to deliver dynamic tools for agencies to better connect with their communities. Its services have been adopted by over 300 agencies on over 3,000 locations globally including Chicago, Toronto, Boston, Portland, Westminster and Miami. Passport's mission is to reduce operational complexity and deliver intelligent data to improve decision making for its clients.
Passport is backed by a group of investors, including Grotech Ventures, Relevance Capital, and MK Capital. For more information, please visit www.passportinc.com.
About City of Tucson Transit Services Division
The City of Tucson coordinates the activities of the public transportation system in Tucson, which include Sun Tran fixed-route bus service, Sun Van paratransit service for persons with disabilities, and Sun Link streetcar service. Private sector management companies operate the transit and paratransit systems, with all operating equipment and vehicles being owned by the City.