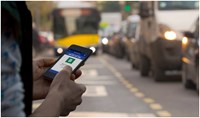 The Southwest Ohio Regional Transit Authority (SORTA) today announced the latest way for riders in Cincinnati to pay for their Metro and Cincinnati Bell Connector trips. SORTA has introduced Cincy EZRide, a mobile ticketing app that allows users to plan their trip and purchase fares from their phone.
The new app is powered by leading mobile payment provider Passport, who's launched similar solutions in cities across the U.S. including Sacramento, Jacksonville, Tucson, and nearby Cleveland, with an upcoming launch in Miami this fall. Passport's mobile parking app is already available in the City of Cincinnati, launching last year at all of the city's metered parking locations.
About Passport
Passport is North America's leading mobile technology company specializing in enterprise business applications and payments for the public and private sector. Passport's product lines parking payments, transit payments, enforcement and permit management collectively serve to deliver dynamic tools for agencies to better connect with their communities. Its services have been adopted by over 20 of the top 50 cities in North America and over 2,000 locations including Chicago, Toronto, Boston, and Portland. Passport's mission is to reduce operational complexity and deliver intelligent data to improve decision making for its clients.
Passport is backed by a highly respected group of investors, including Grotech Ventures, Relevance Capital, and MK Capital. For more information, please visit http://www.passportinc.com.