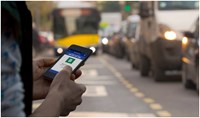 As mobile ticketing makes its entrance into the transit scene, we're seeing a decrease in costs. Yes, that's right. According to a survey conducted by Passport, nearly 73% of surveyors preferred to pay for transit via their smartphone device than any other option. Although mobile ticketing is one of the most convenient ways to handle transit fares, it's actually providing a cheaper option for agencies.
Mobile ticketing is a low cost alternative for agencies to accept fare payments. According to the Federal Reserve Bank of Boston, the New York Metropolitan Transportation Authority (MTA) prints and encodes 160 million cards a year at an average annual cost of about $9.5 million. One ticket machine costs approximately $50,000 and carries with it additional maintenance and repair costs.
These costs really start to add up. According to a recent interview with three major U.S. transit agencies conducted by Trapeze, costs associated with hardware purchases and maintenance for large agencies can be upwards of $1 to $4.3 million respectively, depending on the size of your operations.
Mobile ticketing means lower fare collection costs since users are purchasing and maintaining the fare collection equipment themselves (the smartphone).
Download the full Transit In Motion E-book.
If you can reduce the expenses related to revenue, you can drive up profits and potentially mitigate reductions in federal funding.
About Passport
Passport is North America's leading mobile technology company specializing in enterprise business applications and payments for the public and private sector. Passport's product lines parking payments, transit payments, enforcement and permit management collectively serve to deliver dynamic tools for agencies to better connect with their communities. Its services have been adopted by over 20 of the top 50 cities in North America and over 2,000 locations including Chicago, Toronto, Boston, and Portland. Passport's mission is to reduce operational complexity and deliver intelligent data to improve decision making for its clients.
Passport is backed by a highly respected group of investors, including Grotech Ventures, Relevance Capital, and MK Capital. For more information, please visit http://www.passportinc.com.