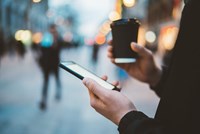 The dreaded planning and packing combo can make any vacation seem more like a chore than a time for rest and relaxation. You've compiled a list of things you must-buy before your trip to Jacksonville, FL, dropped off your pup at doggy daycare, gave your neighbor a key to take care of watering your plants, but have yet to nail down a trip itinerary. Stressed? We don't blame you. Packing and planning for a trip is overwhelming. Yes, you're about to be laying by the pool sipping strawberry daiquiris, but before you can relax you've got to prep.
We can't say we can handle packing your carry-on, but we can help you tackle planning your trip. Planning shouldn't have to be your strong suit; it's ours. Whether you're heading out for a family day at the beach and need to determine the best place to park or you're heading downtown for a dinner date downtown and need to buy a light rail ticket – Passport's MyJTA mobile app can take care of the frustrating details. Whatever vacation throws your way – we've got your back.
Download the MyJTA app through the Google Play or Apple Store!
With Passport's MyJTA mobile app, users have the ability to completely plan their trip from the convenience of their mobile device. The app provides users with the ability to map out the best route, track travel options in real-time, as well as complete ticket purchases all from their smartphone. Having the ability to access all this information through your mobile device takes convenience to a new level.
Hate wondering if the light rail or bus is delayed? The days of waiting are over. Want to track the exact route to your destination? Type in your route and Passport's app provides the best route to your final destination.
Vacay should be easy, let's keep it that way.
About Passport
Passport is the industry-leading mobile payments company specializing in integrated urban mobility solutions. The company provides feature rich software platforms that offer parking and transit agencies a more effective and efficient way to manage their operations and serve their customers. Passport's smart city solution includes multimodal options by creating an all app solution for public transit riders and parkers. Passport's mobile payment systems are deployed in over 1,000 locations in 46 states and provinces across the US and Canada, with clients such as Chicago, Toronto, and Boston.
Headquartered in Charlotte, NC, Passport is backed by a highly respected group of investors, including Grotech Ventures and Relevance Capital. For more information, please visit www.gopassport.com