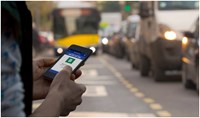 The Maryland Transit Administration has announced a new way for riders to plan their next transit trip in Baltimore. MTA introduced the new BaltimoreLink Trip Planner, a web app that lets riders compare routes on the current MTA bus system with routes on the proposed BaltimoreLink system.
MTA's BalitmoreLink initiative was created to deliver a more efficient and reliable bus network. This includes the CityLink, Express BusLink, Commuter Bus, and School Service transit systems. By spreading out the routes within the downtown core and creating a grid of high frequency routes serving more downtown locations, BaltimoreLink's goal is to provide a more unified, modern transit system.
MTA's collaboration with leading mobile ticketing provider, Passport, will help riders compare MTA transit's existing routes with the proposed BaltimoreLink system. This will help riders understand how their trips will be affected by the proposed changes and give them the opportunity to provide feedback in several workshops hosted by MTA.
"We hope that by offering this new BaltimoreLink Trip Planner web app, we will continue to encourage transit ridership and fulfill our vision of a modern transportation system for the Baltimore area," said Kevin Quinn, MTA Director of Planning and Capital Programming. "Passport's expertise in transit technology gave us confidence they would deliver on the unique project requirements within a short timeline. They worked closely with the MTA team, meeting weekly or more, to deliver the comparative trip planning tool, which has been well received by our riders."
Passport has deployed mobile ticketing systems, which incorporate native route planning and vehicle tracking tools along with mobile purchases, for other agencies such as Cleveland RTA, Cincinnati Metro (SORTA), and will soon launch the mobile ticketing app for the City of Miami.
To get started, passengers will access the trip planner web app on the BaltimoreLink web page. Riders can then click on the map to set their start and end points (or type in start and end addresses), enter a date and time, then select "get trips". From here, users can compare transit trips on the current and proposed system using a side by side map comparison.
The interactive trip planner will even incorporate any transfers necessary as well as time spent walking to and from the station. The web app will also provide detailed information on a user's trip itinerary, specific bus route, and bus stop.
About Passport

Passport is North America's leading mobile technology company specializing in enterprise business applications and payments for the public and private sector. Passport's product lines parking payments, transit payments, enforcement and permit management collectively serve to deliver dynamic tools for agencies to better connect with their communities. Its services have been adopted by over 20 of the top 50 cities in North America and over 2,000 locations including Chicago, Toronto, Boston, and Portland. Passport's mission is to reduce operational complexity and deliver intelligent data to improve decision making for its clients.
Passport is backed by a highly respected group of investors, including Grotech Ventures, Relevance Capital, and MK Capital. For more information, please visit http://www.passportinc.com.