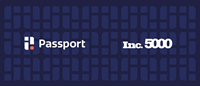 Today, Inc. magazine released its annual list of the fastest-growing private companies and Passport ranks at #832. This is Passport's second consecutive year on the list, which ranks privately-held companies based on percentage revenue growth over a three-year period.
From 2015 to 2018, Passport grew its revenue 511%, a testament to the company's strong relationships with cities and its industry-leading products for mobility payments. Furthermore, the company has doubled its client count and hired more than 100 new employees in the past 12 months.
"It is an honor to be included on the Inc. 5000 list, among some of the most successful and well-known companies in the world. While recognition for our growth is amazing, we remain focused on our goal to help cities serve their citizens." said Bob Youakim, Passport CEO. "As we grow and continue to see record-breaking revenues year-over-year, we can expand our footprint and help more communities thrive."
As Passport grows, it further cements itself as a critical component of the transportation ecosystem for cities around the world. Through its growth journey, the company is expanding its offerings for cities, with its mobility management platform that is launching first in Fort Lauderdale, Fla., and with an innovative micro-mobility pilot program with Charlotte, N.C., Detroit, and Omaha, Neb.
About Passport
Passport is transforming mobility management for cities, empowering them to create more livable and equitable communities. Passport's mobility platform enables clients to digitally coordinate all modes of transportation and implement real-time, data-centric management of their curbside and streetspace through its enterprise software. Trusted by nearly 1,000 cities, universities and agencies, including Chicago, Toronto, London, Los Angeles, and Miami, Passport is one of the fastest growing companies on the Inc. 5000 and Deloitte Technology Fast 500 lists. Passport is backed by Bain Capital Ventures, Grotech Ventures, MK Capital, and Relevance Capital.