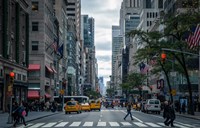 Passport announced today that it has partnered with Amazon's leader in Smart Cities, Hardik Bhatt, to speak about how to demystify smart cities at this year's IPI Conference in Orlando, Fla.
The speaking engagement is the first of its kind in the industry, where Passport and Amazon will answer the question of what it truly means to be a smart city. The talk, which is titled "Demystifying Smart Cities: How to architect the cities of tomorrow" will take place from 4:15-5 p.m., Tuesday, June 5.
"Technology is evolving at lightning speed but cities' physical infrastructure and systems have not necessarily caught up, therefore putting an immense amount of pressure on city leaders to find solutions for increased congestion and other challenges," said Devin Patel, VP of business development from Passport. "As new services such as Uber or Lyft have been introduced, there is an increasing demand for integrating them with cities' transportation and curb-management initiatives."
Passport recently announced a partnership with the Charlotte Area Transit System (CATS) light rail and Lyft to offer a first mile/last mile solution to the city's commuters. The program improves the transit agency's connectivity to its customers in an innovative and cost effective way by enabling CATS to expend funds for trips only when demand is needed versus running a costly route all day with multiple buses.
"There is an unprecedented shift happening in how cities operate as our world is driven by real-time demand," said Hardik Bhatt, Amazon Web Services' Smart Cities and Mobility leader. "However, even some of the largest cities in the world have yet to figure out how to keep up with this change and how to become smarter, more connected cities."
Seating in this speaking session will be limited so IPI attendees are encouraged to arrive early and add this session to their schedule. More information on this session can be found at http://ipiconference.parking.org/2018/learning_labs.cfm.
About Passport
Passport transforms the way cities manage their operations. The fintech company's mobile-first platform has been adopted by more than 450 cities, universities, and private operators around the world in cities including Chicago, Toronto, London, and Miami, across more than 5,000 locations. Passport's product lines —– parking, transit and tolling payments, parking enforcement, and permit management —– enable organizations in the public and private sectors to streamline their operations, enhance customer service, and make data-driven decisions. Consistently recognized as one of the fastest growing companies and Best Places to Work in Charlotte, North Carolina, Passport has an ingrained practice of putting People First —– a guiding principle in its Culture.=
Passport is backed by a group of investors, including Bain Capital Ventures, Grotech Ventures, MK Capital and Relevance Capital. Learn more, or get in touch with Passport at passportinc.com.