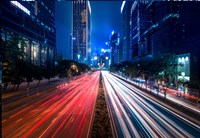 Passport today announced it ranked No. 98 on Deloitte's Technology Fast 500, a ranking of the 500 fastest growing technology, media, telecommunications, life sciences and energy tech companies in North America. Passport is the fastest growing mobility company on the list, receiving recognition for its rapid growth of more than 1,200 percent over the past three years.
The mobility industry is currently facing tremendous challenges: New modes of transportation are emerging rapidly, the curbside is more congested than ever and city leaders need a way to aggregate and analyze data as well as manage all aspects of city mobility in one central place. Passport is providing the solution with its fully-integrated platform and suite of parking, transit and tolling products, helping 600 clients worldwide move faster and more efficiently.
Passport already powers some of the world's biggest cities' mobility operations, including Chicago, Toronto, London, Miami and Los Angeles, and will continue to grow its footprint in 2019 and beyond. With a $5 million investment to advance its mobility platform, Passport will further help cities manage parking, rideshares, scooters and dockless bikes, and prepare for the introduction of autonomous vehicles.
"We are transforming the mobility industry, providing solutions to help our clients manage new and existing forms of transportation through our platform," said Bob Youakim, Passport CEO. "Our industry is changing at an unprecedented pace, and as demonstrated by our place on the Deloitte Technology 500, Passport is leading that change."
The company has been on a rapid trajectory of growth. In the past year alone, Passport expanded its workforce to more than 200 employees worldwide, raised an additional $43 millionin Series C funding, opened its U.K. operations, and acquired leading smart parking management platform, NuPark. With the acquisition of NuPark, Passport has expanded its capabilities and client base and is poised to grow even faster in the years ahead.
"We have been working with cities across North America for nearly a decade, helping them to better manage their mobility operations," said Youakim. "We are continuing to partner with our clients to develop new solutions and are energized as we work with our clients to shape the future together."
About Passport
Passport transforms the way cities manage their operations. The company's mobile-first platform has been adopted by more than 550 cities, universities, and private operators around the world in cities including Chicago, Toronto, London, and Miami, across more than 5,000 locations. Passport's product lines — parking, transit and tolling payments, parking enforcement, and permit management — enable organizations in the public and private sectors to streamline their operations, enhance customer service, and make data-driven decisions. Passport has been recognized as one of North America's fastest growing companies on the Inc. 5000 list and a Best Places to Work in Charlotte, North Carolina.