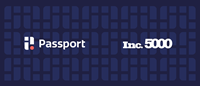 Inc. magazine recognized North America's fastest growing companies in its 37th annual Inc. 5000 list, and Passport was named at the top spot among mobility providers. The list represents a unique look at the most successful companies within the American economy. Passport joins an elite group of companies on the Inc. 5000 list, including previously-recognized organizations Microsoft, Timberland, Vizio, Intuit, Chobani, Oracle, and Zappos.com.
More municipalities and agencies chose Passport as their mobile payment platform in the past year than any other provider in the industry. In the last 12 months, more than 100 cities implemented the Passport platform in their locations, experiencing cost savings, improved operational efficiencies and a better overall customer experience. Supporting over 450 clients, 5,000 locations and 50 integrations with other technologies, Passport has become the mobility platform that provides unprecedented access to data-driven insights and enables real-time operations management.
"It's an honor to have Passport recognized by Inc. 5000," said Passport CEO Bob Youakim. "It goes to show that when you stay true to your vision anything is possible. At Passport, our business strategy is simple: To improve interactions among people and the organizations that serve them. We are laser-focused on our clients' success and when we keep that front of mind, we can be assured that we're on the right path."
In addition to a 1,200%+ revenue growth, Passport has seen its workforce double over the past year, surpassing 150 employees and on its way to nearly 200 employees before the end of the year. Passport's people-first approach differentiates it from others in the market. From the way that Passport employees take care of clients and app users, to the way they interact with each other, Passport's unique approach has yielded positive results, including being recognized as one of the top 500 fastest growing companies in North America by Inc. Magazine.
"Each Passporter's hard work shows in occasions like this," said Youakim. "We are a team of passionate people dedicated to our clients' success. The pace of innovation we have set is complemented by our dedication to client success and customer support, all of which aim to advance the way citizens interact with the organizations that serve them."
This is the first time that Passport has been recognized on the Inc. 5000 list after experiencing explosive growth of over 1,200 percent. In December of 2017 Passport announced a $43 million in Series C funding led by Bain Capital Ventures, one of the world's leading growth equity firms. The firm has its eyes set on expanding internationally into the UK market, making strategic acquisitions and investing in product growth and innovation to better serve its customers.
About Passport
Passport transforms the way cities manage their operations. The fintech company's mobile-first platform has been adopted by more than 450 cities, universities, and private operators around the world in cities including Chicago, Toronto, London, and Miami, across more than 5,000 locations. Passport's product lines —– parking, transit and tolling payments, parking enforcement, and permit management —– enable organizations in the public and private sectors to streamline their operations, enhance customer service, and make data-driven decisions. Consistently recognized as one of the fastest growing companies and Best Places to Work in Charlotte, North Carolina, Passport has an ingrained practice of putting People First —– a guiding principle in its Culture.