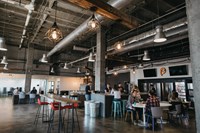 Passport, the leading mobility management platform, has been recognized as a 2019 Top Workplace by the Charlotte Observer. Nominees are evaluated by a variety of criteria, including company values, effectiveness of programs and leadership, engagement, and overall employee satisfaction. The results are based solely on a confidential employee survey process and only 60 companies make it to the list.
This is the fifth consecutive year that Passport received the Top Workplace recognition from the Charlotte Observer. The company has experienced impressive growth, following its 2018 acquisition of NuPark and its recent acquisition of Complus Data Innovations (CDI). Passport now proudly serves nearly 1,000 municipalities, universities and agencies.
"Our goal as a company is to transform the way cities and agencies manage their operations and our team members are a critical component of that vision," said Bob Youakim, Passport CEO. "We strive to support a workplace where our employees feel heard and valued as we work toward our goals. This recognition as a Top Workplace reinforces that we are on the right track."
Passport has attracted and hired 43 people since January 2019, another key contributor to its overall growth. One of those recent hires is Karin Davies, chief human resources officer. Karin brings nearly 30 years of human resources experience and plays an integral role in maintaining Passport's strong company culture.
"We want every member of the Passport team to enjoy the time they spend at the office, whether they are working hard for our clients, participating in community and volunteer events or spending downtime with their colleagues," said Davies. "Passport is dedicated to growing their employees both personally and professionally and upholding an inclusive and positive workplace environment year-round."
About Passport
Passport is transforming mobility management for cities, empowering them to create more livable and equitable communities. Passport's mobility platform enables clients to digitally coordinate all modes of transportation and implement real-time, data-centric management of their curbside and streetspace through its enterprise software. Trusted by nearly 1,000 cities, universities and agencies, including Chicago, Toronto, London, Los Angeles, and Miami, Passport is one of the fastest growing companies on the Inc. 500 and Deloitte Technology Fast 500 lists. Passport is backed by Bain Capital Ventures, Grotech Ventures, MK Capital, and Relevance Capital.