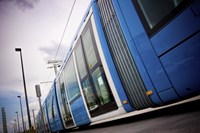 The Greater Cleveland Regional Transit Authority decided Tuesday to keep its mobile ticketing app for at least three years.
RTA launched the RTA CLE app as a pilot program in July to give riders the ability to pay fares from their phones. That program proved to be successful, transit officials said.
"I expect now it will be become a permanent, additional enhancement," RTA CEO Joe Calabrese said Tuesday after the meeting at which the RTA board approved continuing use of the app. "We see this as a trend in the future."
Click here to see the full article by Ginger Hurst from The Plain Dealer.
About Passport
Passport is North America's leading mobile technology company specializing in enterprise business applications and payments for the public and private sector. Passport's product lines--parking payments, transit payments, enforcement and permit management--collectively serve to deliver dynamic tools for agencies to better connect with their communities. Its services have been adopted by over 20 of the top 50 cities in North America and over 2,000 locations including Chicago, Toronto, Boston, Portland, and Miami. Passport's mission is to reduce operational complexity and deliver intelligent data to improve decision making for its clients.
Passport is backed by a group of investors, including Grotech Ventures, Relevance Capital, and MK Capital. For more information, please visit www.passportinc.com.