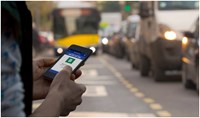 The Southwest Ohio Regional Transit Authority awarded a contract to Passport for the creation of a Mobile Ticketing App that will allow public transit riders to purchase fare on smartphones and tablets.
Passport is the industry-leading mobile payment provider specializing in enterprise mobility solutions and has recently created mobile ticketing applications for the Sacramento Regional Transit District and the Jacksonville Transportation Authority, in addition to working with the City of Cincinnati to create its parking meter app.
"Our customers want convenience and flexibility in how and when they purchase fare," said Metro CEO Dwight A. Ferrell. "The mobile ticketing app will alleviate the need to carry cash or visit a ticket vending machine, which will make using public transportation even more attractive and seamless and is just one more way we are working to reinvent Metro's service."
"We are excited to work with the Southwest Ohio Regional Transit Authority to deliver a mobile application that provides a complete rider experience. More and more, smartphones are being used to improve many facets of life, including mobile ticketing. Now, from trip planning to transit-fare purchases, passengers can connect with the Metro in a whole new way," said Daniel Bliley, Director of Marketing for Passport.
The mobile ticketing app, expected to launch in August 2016, will greatly enhance the customers' experience by enabling them to plan, track their bus in real-time and pay for their trip in one simple, secure app. Riders will be able to purchase bus and streetcar fare electronically through their cell phone or tablet and simply display the fare purchase on their mobile device for validation when they ride.
About Metro
Metro is a non-profit public service of the Southwest Ohio Regional Transit Authority, providing about 17 million rides per year in Greater Cincinnati.
About Passport
Passport is North America's leading mobile technology company specializing in enterprise business applications and payments for the public and private sector. Passport's product lines--parking payments, transit payments, enforcement and permit management--collectively serve to deliver dynamic tools for agencies to better connect with their communities. Its services have been adopted by over 20 of the top 50 cities in North America and over 2,000 locations including Chicago, Toronto, Boston, and Portland. Passport's mission is to reduce operational complexity and deliver intelligent data to improve decision making for its clients.
Headquartered in Charlotte, NC, Passport is backed by a highly respected group of investors, including Grotech Ventures, Relevance Capital, and MK Capital. For more information, please visit www.passportinc.com.