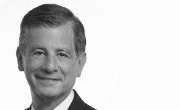 Passport, the leader in parking and transit technology systems, today announced Stephen Goldsmith has joined the Board of Advisors to provide strategic vision on technology adoption in private-public partnerships. Goldsmith brings extensive experience working in government and corporate environments to deliver innovative change through the power of big data to benefit public and private sector organizations. He is currently the Daniel Paul Professor of the Practice of Government and the Director of the Innovations in American Government Program at Harvard's Kennedy School of Government. He is a nationally recognized expert on government management, reform and innovation. An accomplished author, Goldsmith also served as Deputy Mayor of New York City and Mayor of Indianapolis. He also serves in several strategic consultancy roles in the technology and government sectors.
Passport's software platform enables governments to improve operational efficiency for parking and transit operations through smart technology for payments, management, and reporting. By leveraging online and mobile services, leaders are able to access rich data that generates insights that drive better revenue, eliminate waste in the system, and improve outcomes for citizens.
"Private-public partnerships are shaping the next generation of smart services for residents and visitors. Passport has established itself as a clear market leader by creating a vision for how cities can offer mobile applications to navigate urban environments easily. But that's just the beginning. The true power comes from harnessing the data collected to then offer greater efficiency and functionality in the ecosystem. It creates a winning scenario for both the city and its customers," said Goldsmith.
The announcement comes as Passport continues to expand its parking and transit services across North America and in international markets. On the heels of acquiring mobile parking company ParkX, the company plans to launch in Europe early 2017.
"Stephen Goldsmith joins as a valued advisor during a time of accelerated growth. His depth of understanding in the government space--both in public office and as an expert on creating innovative solutions through data--will greatly aid our efforts in providing efficient, easy-to-use technology that solves complex challenges," said Bob Youakim, CEO at Passport. "We're excited to help cities evolve with technology, and Mr. Goldsmith will be an excellent resource in that journey."
About Passport
Passport is North America's leading mobile technology company specializing in enterprise business applications and payments for the public and private sector. Passport's product lines--parking payments, transit payments, enforcement and permit management--collectively serve to deliver dynamic tools for agencies to better connect with their communities. Its services have been adopted by over 20 of the top 50 cities in North America and over 2,000 locations including Chicago, Toronto, Boston, Portland, and Miami. Passport's mission is to reduce operational complexity and deliver intelligent data to improve decision making for its clients.
Passport is backed by a group of investors, including Grotech Ventures, Relevance Capital, and MK Capital. For more information, please visit www.passportinc.com.