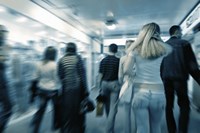 The world of public transportation is changing rapidly as real-time and on-demand services become the norm throughout cities. Finding ways to make traversing the community easier will hinge upon the strategic integration of technology and data analytics.
At present, we see the end of large-scale cash circulation looming and hardware providers making some serious upgrades, while data from connected devices multiplies and self-driving cars ascend into normality. Here are the current tech trends in public transit:
Using Technology to Reduce Cash Circulation
Cash in transit is waning, largely because it's expensive to maintain and creates a cumbersome experience for both riders and operators. Plus, it causes bottlenecks, increases dwell time, and reduces throughput. With the advancement of technology, there's the opportunity to allow passengers to board their transit mode of choice much more swiftly by using mobile phones.
There are a number of possible solutions for reducing the use of cash. The smart card is a popular one, commonly used to reload fare; ironically, there's no real data tied to them, so there's no way to identify specific rider accounts, or extract loyalty benefits. Transit as a whole is moving toward account-based systems which allow for riders and transactions to be tied to an account, thanks to mobile ticketing. Ultimately, solutions such as these are more data-driven, allowing better communications with riders and more opportunities to improve the bottom line. This isn't to suggest that smart cards are becoming obsolete. On the contrary, smart cards are being made smarter by integrating them with mobile devices and enabling account-based capabilities.
But what happens with those who do not have a bank account or a credit card at all? It has been a common concern that going the mobile app route might exclude the underbanked or unbanked. However, technology providers have figured out a way to ensure that this segment of the population continues to be served by forming partnerships with local retail networks such as CVS and 7 Eleven to allow them to load cash onto their tech-driven mode of payment for transportation without having a debit or credit card.
IoT, Data and Connected Vehicles
Discussion around connected devices and the exponential generation of data pervades every industry, transit included. According to SmartAmerica.org, cities are expected to invest more than "$40 trillion over the next 20 years to upgrade their infrastructure to benefit from IoT…which will transform the quality of life for citizens". Almost every citizen now owns multiple connected devices, a number which is expected to quadruple by 2020.
Then there is the trend of self-driving cars that is expected to be a regular method of transportation as soon as legislation catches up to the technology advancements. According to BCG, over 12 million fully autonomous vehicles and 18 million partially autonomous vehicles will be sold annually around the world by 2035. With the proliferation of self-driving cars, an already inconceivable amount of data will burgeon, which begs the question of how agencies can leverage this information to a greater degree.
What does all this mean for public transportation? There's now an unmeasurable amount of open data from public transit agencies, some of which is being used to create mobile applications to enable efficiencies for both riders as well as agencies. The real power in data is expected to be in combining multiple pieces of data in order to provide smart recommendations to riders. The possibilities are endless but agencies will be pressed to ensure that information is used ethically for the greater good of citizens, rather than at their risk. Agencies and their technology providers will have to work together to create a safe technology ecosystem for citizens that drives smarter cities.
Technology is Changing Fast, and Hardware Providers Have to Keep Up.
Hardware providers, such as ticket vending machine (TVM) or gate manufacturers, are realizing that technology is changing fast, and their hardware quickly becomes outdated. Most transit hardware is not internet-connected nor does it usually enable other modes of technology such as Bluetooth or NFC. That often results in a disconnect between the technology-equipped riders and the technology-lacking transit hardware.
As hardware providers have become more aware of this trend, they have started moving toward producing connected, smarter hardware that ties to mobile apps or other technologies to enable real-time transportation experiences. At present, a shift is taking place, but it's not an overnight initiative. One of the biggest challenges that the industry is facing is the fact that there are numerous technologies that make real-time transportation experiences possible, but as a whole, the industry hasn't quite decided which works best. QR, Bluetooth, NFC, and smart codes are all potential solutions, which is why many hardware providers are taking an inclusive approach, accepting all technologies in the name of future-proofing. For now, this strategy will hopefully attract more patrons, rather than having to create individual turnstiles or hardware that will only accommodate one technology. Furthermore, as connectivity brings together the digital and physical worlds, APIs and SDKs will play a key role in enabling data flow between systems so that agencies can provide a seamless rider experience.
Humanity in Transit: Riders Are Real People.
As the rate of change in technology advances exponentially, it is incredibly important to remember that technology is used by real people who have specific needs when using these transportation systems.
With the use of technology, we are met with the opportunity to make the lives of citizens and public transportation agencies easier by integrating more data-driven capabilities into the system. At present, we see account-based systems powered by real-time analytics, optimized use of data collected by transportation agencies, and hardware upgrades making significant contributions.
Have questions about how mobile apps and analytics can enhance your organization's transit operations? Passport is here for you. Get in touch with us at https://passportinc.com/contact/
About Passport
Passport is North America's leading mobile technology company specializing in enterprise business applications and payments for the public and private sector. Passport's product lines parking payments, transit payments, enforcement and permit management collectively serve to deliver dynamic tools for agencies to better connect with their communities. Its services have been adopted by over 20 of the top 50 cities in North America and over 2,000 locations including Chicago, Toronto, Boston, and Portland. Passport's mission is to reduce operational complexity and deliver intelligent data to improve decision making for its clients.
Passport is backed by a highly respected group of investors, including Grotech Ventures, Relevance Capital, and MK Capital. For more information, please visit http://www.passportinc.com.