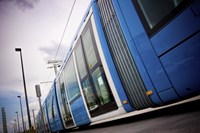 Could your public transportation system handle 500,000 new tourists?
That's the question cities throughout the last several decades have had to answer as host sites for the Olympic Games.
The summer games of 2016 are officially fast approaching. It's the one time every four years the best athletes in the world are on display–swimming, running, biking, jumping, and dunking their way to Olympic gold and glory.
It's also the time when the selected city hits the world stage with scrutiny towards public transportation and city infrastructure.
For Rio, Brazil, the pressure is on. An already congested city, Rio is taking major steps towards improving public transit ahead of the Games. The city is working hard to add new bus rapid transit lines from the airport to the venue and creating new lines to reduce travel time between certain destinations by over an hour in some cases. Another line, the Transbrasil, will reportedly transport 700,000 passengers per day.
We will wait and see if Rio's work and progress will lead to an effective mobility plan during the Games, but this scenario is not new.
Congestion and the Olympics are familiar friends. Take Los Angeles for example, one of the most populated cities in the world. In order to submit a bid for the games in 2024, leaders are requesting federal funding to expedite the expansion of light rail and subway services. With traffic concerns already in the city, the need for better public transit goes beyond just an Olympic bid, but dealing with an even greater influx of visitors during a time that could result in gridlock. Creating efficient lines, expanding routes, and adding rapid transit services would further equip a city such as Los Angeles to handle the world spotlight.
Preparing for the Olympics, even for some of the most recognizable cities in the world, requires a significant financial haul. In 2000, Sydney spent around $380 million in direct expenses with an estimated $3.1 billion in indirect costs. In 2004, Athens spent $4.5 billion to prepare for the game, adding new transit lines that also included a new international airport. These projects require lots of moving parts and lots of financial backing.
While not every city or system will host an Olympics or see that level of funding, there are some great takeaways from agencies that have gone through it. Here are some key areas your agency can focus on to improve transit in your city:
You need volunteers
While access to buses, trains, and subways is essential, so is helping people navigate it all. On a slow day, finding your way through a city can require a bit of mental Olympics in itself. Add the games to the mix, and it can create havoc. Signs and news releases are great, but having boots on the ground to assist tourists and athletes can help save people time in getting lost and improve the overall efficiency of the system. Posting volunteers, armed with guides and other helpful brochures, near major transit arteries and venues is important in wayfinding. Although your agency might not experience the onslaught of the Olympics, having the occasional street team or city ambassador program to help people find the right routes and use the best form of payment can help ease the stress of riding public transportation.
Pay special attention to major routes
In tourists cities, or a city that might be expecting a major event, keeping a regular flow between airports and hotels/venues is vital. Identifying ways to connect lines that reduce travel time can save overall time in the system, and rerouting buses in lower ridership areas to accommodate the influx of travelers during peak hours can also help mobility. Transit agencies can work in tandem with city planners and traffic managers to find detours and alternate routes that also help with easier to and from trips for public transit.
Embrace Smart Technology
In 2012, London improved its overall system by upgrading traffic light technology to better handle the increase in traffic. As more and more cities approach the concept of smart cities, implementing sensor networks and automated traffic patterns can improve flow, whether during the Olympic games, rush hours, or unfortunate events such as a natural disaster.
"While traveling around London during the 2012 summer Olympics, I was very impressed with traffic flow in the city – mainly because I would have never guessed the large scale event they were hosting," mentioned Emily Wilson, Marketing Specialist at Passport. "Even the Tube maintained a flow that kept rush hour significantly less overwhelming than I expected."
Universal Passes
If public transportation is to be heavily relied upon to get around the city, especially for repeat riders, then a universal pass across all transit lines could increase loyalty and the propensity to ride. Complicated rate structures, differing passes, and disconnected services do not make the experience easier for those wanting–or needing–to take transit.
While the Olympics serve as a backdrop for improved public transportation, the key lessons from successful cities can serve as a blueprint for how to better connect people to places within your own system. It can also offer a model for how to make travel more efficient and economical for all. In 2010, Vancouver created the first ever private-public partnership in North America for a transit project. The city selected a private firm to design, build, finance, operate and maintain the Canada Line, which boasts a ridership of 40 million per year. The private consortium receives payments based on its performance and cleanliness. The success of Vancouver, spurred by the arrival of the athletic competition, is now serving as a model for other transit systems in North America, such as Edmonton, Denver, and the suburbs outside of Washington, D.C.
Although your agency might not receive funding like Olympic winning cities, taking notes from the innovation that occurs during these projects for better public transportation can help create ideas that impact better mobility for riders.
About Passport
Passport is North America's leading mobile technology company specializing in enterprise business applications and payments for the public and private sector. Passport's product lines--parking payments, transit payments, enforcement and permit management--collectively serve to deliver dynamic tools for agencies to better connect with their communities. Its services have been adopted by over 20 of the top 50 cities in North America and over 2,000 locations including Chicago, Toronto, Boston, and Portland. Passport's mission is to reduce operational complexity and deliver intelligent data to improve decision making for its clients.
Headquartered in Charlotte, NC, Passport is backed by a highly respected group of investors, including Grotech Ventures, Relevance Capital, and MK Capital. For more information, please visitwww.passportinc.com.