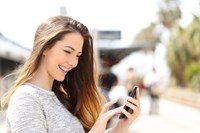 Riders on Utah Transit Authority (UTA) can now skip waiting in transit ticket lines and use their smartphones to buy their fares. The UTA today announced the launch of the UTA GoRide mobile ticketing application. Passport, the global leader in transit and parking payments, powers the mobile ticketing app for UTA and has launched mobile solutions for large cities around the world.
The convenience of handling transit ticketing through a mobile device provides users with the efficiency and speed they expect. Users can also take advantage of the following benefits:
Plan transit trips using the in-app route planner
Use mobile tickets to board transit or store for later use
Manage purchases or transit history in the app
With over 45 million transit boardings a year, UTA's main goal is to deploy an app that provides users with a more convenient fare experience.
"As one of the top 25 best cities for public transportation according to SmartAsset, UTA is excited to bring a mobile ticketing app to commuters," said Dave Snyder, development manager for Utah Transit Authority. "We're adding a convenient and modern way for our users to manage their commutes."
"Passport is honored to bring a comprehensive mobile platform to Salt Lake City," said David Singletary, VP of Sales at Passport. "With our state-of-the-art platform, we are able to ease the common pain points of managing the transit experience for residents and visitors. It's a momentous time for the city and we look forward to supporting UTA as a technology partner."
The UTA GoRide app is free to download through the App Store and Google Play. Passport also powers transit systems in large cities such as Miami, Cincinnati, Jacksonville and Tucson.
About Passport
Passport is the industry's leading mobile technology solution specializing in enterprise business applications and payments for the public and private sector. Passport's product lines--parking payments, transit payments, enforcement and permit management--collectively serve to deliver dynamic tools for agencies to better connect with their communities. Its services have been adopted by over 400 agencies on over 3,000 locations globally. Passport's mission is to reduce operational complexity and deliver intelligent data to improve decision making for its clients.
Passport is backed by a group of investors, including Grotech Ventures, Relevance Capital, and MK Capital. For more information, please visit www.passportinc.com.