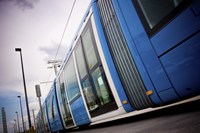 In an effort to expand its rail signaling offerings, Progress Rail Services Corporation, a Caterpillar company, has acquired Inspired Systems Pty Ltd. Inspired currently provides asset protection and condition-based monitoring systems for the rail industry, with its headquarters located in Canning Vale, a suburb of Perth, Western Australia, and another facility located in Port Hedland.
Inspired's product portfolio creates value for customers by allowing rail operators to maximize efficiency and improve the safety of rolling stock assets. The company's latest asset management systems compile data from wayside monitoring equipment to help identify issues in real time, before a potential problem can occur. The systems also monitor general utilization and maintenance needs.
"We've collaborated with Inspired since 2010, and they have made great strides to meet the needs of customers in the region, paying special attention to the rugged environment and creating products and services that can easily adapt," said Progress Rail Engineering and Track Services Senior Vice President Dave Roeder. "This acquisition is a natural fit for the Progress Rail family, as it expands our presence in the global signaling and communications segment. Inspired has reliable asset protection and condition-based monitoring systems that complement our existing offerings for the Australian heavy haul market, as well as worldwide railroad customers."
The Inspired Systems staff is also excited by the changes. "This will give us the corporate strength that we need to pursue bigger projects here in Australia and to expand our markets into the United States and South America," said Greg Martin, CEO of Inspired Systems. "We have had a long-term relationship with Progress Rail and this will formalize the way we cooperate. We are certain that Inspired Systems will be a valuable addition to the Progress Rail group of companies."
In addition to its condition-based monitoring systems, Inspired has a full suite of asset protection systems to support track safety, including bearing monitoring, dragging equipment and high wide load detection, hot bearing/hot wheel detectors, rail stress and temperature monitoring and more.
About Progress Rail Services Corporation and Electro-Motive Diesel, Inc.:
Progress Rail Services Corporation, a wholly owned subsidiary of Caterpillar Inc., is a total solutions provider of locomotive, railcar, engineering and track products and services for the global rail industry. Since the acquisition of Electro-Motive Diesel, Inc., (EMD) Progress Rail and EMD work as one team to design, manufacture and sell locomotives, engines and aftermarket parts for customers around the world.
With headquarters in Albertville, Ala., more than 8,000 employees serve customers in a network of 200 locations across the United States, Brazil, Canada, Mexico, Germany, Italy, the United Kingdom, China, India, South Africa and Australia.
For more information, visit progressrail.com and follow @Progress_Rail on Twitter and YouTube.