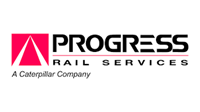 In a move to further complement its rolling stock services portfolio, Progress Rail, a Caterpillar company, has signed an agreement to acquire Downer EDI's (ASX: DOW) freight rail business ("Downer Freight Rail"). Headquartered in North Ryde and with 15 maintenance facilities strategically located throughout Australia, Downer Freight Rail provides a full suite of rolling stock, aftermarket parts and services.
Upon completion, the acquisition will significantly strengthen Progress Rail's existing Australian footprint, which currently includes rolling stock maintenance facilities, as well as infrastructure and signalling facilities.
"This acquisition allows Progress Rail to directly serve rail customers in Australia with best-in-class products and services," said Billy Ainsworth, President and CEO of Progress Rail, and Senior Vice President of Caterpillar Inc. "It also reinforces Progress Rail's commitment to the rail industry."
Progress Rail and Downer have been business partners for nearly 70 years, with a primary focus on Progress Rail's EMD-branded products. Historically, Progress Rail sold EMD locomotive component kits to Downer, from which Downer created its own locomotives for use in Australia. More recently, the companies collaborated on developing EMD freight locomotives for use in Australia. The locomotives are manufactured in Progress Rail's state-of-the-art manufacturing facility in Muncie, Indiana.
The transaction is anticipated to close in January 2018.
About Progress Rail:
Progress Rail, a Caterpillar company, is one of the largest integrated and diversified providers of rolling stock and infrastructure solutions and technologies for global rail customers. Progress Rail delivers advanced EMD locomotives and engines, railcars, trackwork, fasteners, signaling, rail welding and Kershaw Maintenance-of-Way equipment, along with dedicated locomotive and freight car repair services, aftermarket parts support and recycling operations. The company also offers advanced rail technologies, including data acquisition and asset protection equipment. Progress Rail's deep industry expertise, together with the support of Caterpillar, ensures a commitment to quality through innovative solutions for the rail industry. Progress Rail has a network of nearly 200 locations across the United States, Canada, Mexico, Brazil, Germany, Italy, Australia, China, India, South Africa, the United Arab Emirates and the United Kingdom.