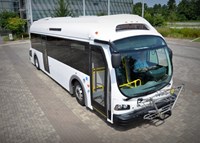 Proterra, the leading North American provider of zero-emission battery electric buses, announced it has been selected by the Washington State Department of Transportation (WSDOT) and the Department of Enterprise Services (DES) in a significant RFP solicitation for a statewide master contract for Heavy-duty Transit Vehicles and a multi-vendor contract for the purchase of multiple public transportation vehicles. As a result, Washington State transit agencies and members of the Oregon Cooperative Purchasing Program (ORCPP) can now bypass future RFPs to purchase Proterra's Catalyst™ through the region's new innovative Master Contracts Usage Agreement (MCUA).
Proterra and seven other manufacturers were chosen as WSDOT's "pool of providers" in order to dramatically streamline local transit agencies' access to the vendor and vehicle that best meets their specific transit system's needs. Proterra's configurable EV platform, battery and charging options make its buses well suited for a wide range of transit and campus routes. Proterra was the only provider selected offering both long-range and fast-charge transit vehicles capable of recharging in less than 10 minutes.
The resulting contract has a possible life of five years, and it is estimated that the contract could reach up to 800 buses at approximately $480 million dollars. Moreover, the contract seeks to match and qualify contract users with federal grant and/or stimulus funds. Although this RFP includes all types of heavy-duty transit vehicles, it was created in support of Governor Jay Inslee's initiative to reduce greenhouse gas emissions and to increase transportation choices for the future. Last year, Proterra was selected by King County Metro in Washington State to supply buses for its zero-emission bus demonstration program. This new RFP selection enables other Pacific Northwest transit fleets to begin similar or larger programs.
"This is a huge win not only for Proterra and transit agencies, universities and institutions across the Northwest, but for EV adoption in the U.S.," said Proterra CEO, Ryan Popple. "We applaud WSDOT and DES on this innovative RFP approach and hope that other states will follow suit, accelerating public access to zero-emission transportation."
About Proterra, Inc.
Proterra is a leader in the design and manufacture of zero-emission vehicles that enable bus fleet operators to significantly reduce operating costs while delivering clean, quiet transportation to the community. Proterra has sold more than 108 vehicles to 14 different transit agencies throughout North America. With unmatched durability and energy efficiency based on rigorous U.S. certification testing, Proterra products are proudly designed, engineered and manufactured in America, with offices in Silicon Valley and South Carolina.