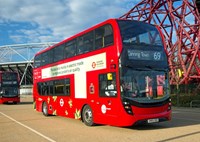 Today Proterra, the leading innovator in heavy-duty electric transportation, Alexander Dennis Inc (ADI) and Foothill Transit announced North America's first electric double deck bus order for a public transit agency. ADI chose Proterra's highly efficient E2 battery technology for its next-generation Enviro500 platform in North America, which will enter service in 2019 as part of Foothill Transit's growing battery-electric bus fleet.
The Alexander Dennis signature vehicle, recognized in cities around the world from London to Hong Kong, Auckland, Singapore, Toronto, Ottawa, Seattle and Mexico City, will utilize the same high-performance E2 battery technology from Proterra that broke the world record for range last year, achieving 1,101.2 miles on a single charge with the Catalyst® bus. This deal reflects the mass-market shift to electrification and the growth of zero-emission technology transfer enabling heavy-duty fleets to go 100 percent electric.
"We're seeing increasing global demand for electric buses that combine high passenger capacity and comfort," said Robert Davey, President at Alexander Dennis Inc. "With congestion and local air quality challenges remaining top of every transit authorities' agenda, we're excited to raise the bar in Los Angeles County with transit pioneer, Foothill Transit, and heavy-duty electric vehicle technology innovator, Proterra."
Alexander Dennis is the world's largest double deck bus manufacturer, with a history and heritage of design, engineering and manufacturing excellence that spans more than a century. Drawing on its extensive global experience, ADI has tailored its modular bus design to suit metropolitan and regional needs across continents. Proterra® E2 battery packs will compliment ADI's next-generation Enviro500 platform, building upon its earlier product platform success. Designed from the ground-up with an emphasis on safety, durability and performance, Proterra E2 battery packs represent the heavy-duty industry's highest pack-level energy density at 157 Wh/kg and 260 Wh/L. In addition to Proterra E2 batteries, Alexander Dennis Enviro500 vehicles will be equipped with Proterra charging hardware and battery thermal management to ensure optimal vehicle performance.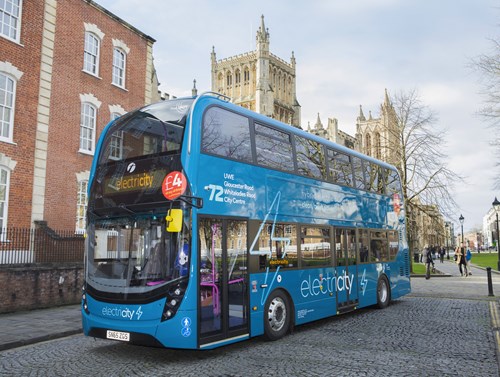 "The Alexander Dennis design and ride quality thoroughly impressed our most discerning customers during an extended demo through downtown Los Angeles last year," said Doran Barnes, Executive Director at Foothill Transit. "As congestion intensifies across Southern California, every inch of road space matters, so increasing passenger occupancy while maintaining comfort and a singular bus footprint is a public transit solution we're really excited to introduce."
The Alexander Dennis Enviro500 bus will provide Foothill Transit riders with an enhanced first-in-class experience, equipped with Wi-Fi, storage capacity and other amenities that create a comfortable and accessible commuter experience along Foothill's popular Silver Line route. As urbanization increases across California, Foothill Transit aims to attract new riders by being the first agency in North America to pioneer this state-of-the-art electric double deck bus technology. It also brings the agency closer to its goal of transitioning to a 100 percent electric fleet by 2030.
"It seems fitting that Foothill Transit will pioneer this next phase of the sustainable transit revolution," said Ryan Popple, CEO of Proterra. "As electric mobility continues to evolve, we're pleased our battery technology has been chosen by world class, heavy-duty manufacturers like Alexander Dennis in their pursuit to go electric in North America. The opportunities to electrify medium- and heavy-duty platforms with our technology, from transit vehicles to trucks and school buses, are abundant."
About Proterra

Proterra is a leader in the design and manufacture of zero-emission heavy-duty vehicles, enabling bus fleet operators to significantly reduce operating costs while delivering clean, quiet transportation to local communities across North America. With more than 625 vehicles sold to 70 different municipal, university, airport, federal and commercial transit agencies in 32 U.S. states and Canadian provinces, Proterra is committed to providing state of the art, high performance vehicles to meet today's growing market demand. The company's configurable Catalyst platform is capable of serving the full daily mileage needs of nearly every transit route on a single charge. With unmatched durability and energy efficiency based on rigorous U.S. certification testing, Proterra products are proudly designed, engineered and manufactured in America, with offices in Silicon Valley, South Carolina, and Los Angeles.