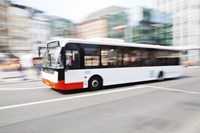 Proterra, the leading innovator in heavy-duty electric transportation, today announced that Greensboro Transit Authority (GTA) is going forward with the purchase of four 40-foot Proterra electric buses this fall, setting in motion the potential to significantly expand its zero-emission vehicle (ZEV) fleet over the next four years. This new procurement represents a joint effort by GTA and Proterra to minimize emissions, reduce traffic congestion and accelerate sustainable infrastructure development throughout the Greensboro community.
"We are proud to be the first city in North Carolina to adopt zero-emission, battery-electric buses," said Greensboro Mayor Nancy Vaughan. "It's our hope that Greensboro serves as a model for other North Carolina communities – one that will help improve the quality of life, and make our state even better place to live, learn, work and play."
When the four Proterra buses are put in service, they will replace retiring fossil fuel buses and eliminate annually more than 1.2 million lbs. of GHG (greenhouse gas) emissions. In addition to the environmental benefits, the new electric buses will also have a positive impact on GTA's bottom line, since they require less energy to operate and reduced maintenance. Over their 12-year lifetime, the four Proterra buses will result in maintenance and operations cost savings of more than $1.7 million. Greensboro has a five-year contract with Proterra, and expects to purchase additional buses as it works to replace its full fleet.
"At GTA, we want to offer our riders the opportunity to make sustainable choices through public transit. These new battery-electric Proterra buses will not only provide an environmentally-friendly service to our customers, they'll also exemplify GTA's commitment to eco-conscious infrastructure adoption and to strong fiscal responsibility," said Adam Fischer, director of the Greensboro Department of Transportation. "Providing the community with the best service possible, and doing so in a way that benefits our residents and the environment, is at the core of GTA. As we move forward with the Mobility Greensboro 2040 plan, cutting back on emissions levels and laying the foundation for sustainable urban ecosystems will be key to the future of our Greensboro transportation system. That's why we're more than excited to officially deploy our new electric buses in the coming year."
With an annual total ridership of 6.1 million, GTA provides mass transit services to citizens and visitors throughout the Piedmont Triad, including nine dedicated routes serving higher learning institutions and select destinations throughout Greensboro. Now, with access to Proterra battery-electric buses, many riders will be able to enjoy the benefits of zero-emission mass transit technology, including improved community air quality and a modern, quiet rider experience.
"Greensboro already has an outstanding reputation for pursuing and implementing forward-looking transportation initiatives and policies. We're proud to help them further solidify this reputation by providing them with our battery-electric transit vehicles," said Ryan Popple, CEO of Proterra. "With GTA and other progressive agencies serving as models, the Southeast is quickly pivoting away from diesel and committing to sustainable mobility solutions that simply make economic and environmental sense. Proterra is excited to help this region—and the country as a whole—speed into a clean transit future."
About Proterra
Proterra is a leader in the design and manufacture of zero-emission heavy-duty vehicles, enabling bus fleet operators to significantly reduce operating costs while delivering clean, quiet transportation to local communities across the United States. With more than 480 vehicles sold to 60 different municipal, university, airport and commercial transit agencies in 25 states, Proterra is committed to providing state of the art, high performance vehicles to meet today's growing market demand. The company's configurable Catalyst platform is capable of serving the full daily mileage needs of nearly every U.S. transit route on a single charge. With unmatched durability and energy efficiency based on rigorous U.S. certification testing, Proterra products are proudly designed, engineered and manufactured in America, with offices in Silicon Valley, South Carolina, and Los Angeles.
About the Greensboro Transit Authority
The Greensboro Transit Authority is operated Department of Transportation (GDOT). GDOT seeks to increase public safety and mobility through the effective planning and delivery of transportation services and operation of municipal transit.
About Mobility Greensboro 2040
The Mobility Greensboro 2040 Plan will establish long-term strategies and programs designed to make the Greensboro area's bus system more efficient and increase the number of bus riders. To achieve this, GTA is conducting an in-depth study that assesses the changing transit needs of the Piedmont Triad's residents, workers, students, and visitors.