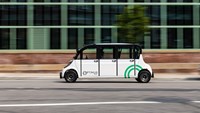 The first self-driving shuttles have been rolling in New York since this summer. Numerous other cities around the world, such as Singapore, Sydney and Hamburg, are also testing such driverless minibuses. Experts agree that autonomous vehicles offer numerous opportunities for public transport, and in the process, they may be able to help solve the transport problems of our time. The German research project "LEA (mini) bus" focuses on what is necessary to take these self-driving shuttles from test operation to regular operation.
Up to now, self-driving minibuses are only independent to a very limited extent. In New York, the six-seat connected and autonomous vehicles (CAV) are only driving in the Brooklyn Navy Yard, a 300-hectare industrial test area set apart from the rest of the city. They always have two safety drivers on board. In Hamburg, the self-driving shuttle travels a 1.8 km-long route in the Hafencity at speeds of 15 to maximum 25 km/h – and of course also with a person aboard.
"Today, we are still far away from regular operation of CAVs on public roads. There are still a lot of technical hurdles. Even leaves that fall on the street can currently bring the vehicles to a standstill. And there are still steps to be taken with regard to networking of the vehicles with one another and with the infrastructure. Thus far, mixed traffic with conventional cars has not been conceivable. The hold-up is not just the technical sophistication; the legal framework has also not been sufficiently clarified," explains Inga Luchmann of the PTV Research Team, that managed the research project. "Furthermore, there are other questions relating to personal safety. How safe would I, as a woman, feel on the bus if there is no driver or person on board to whom I can turn in an emergency?"
The scientists regarded this topic from all angles. Their focus was on not just legal and technical aspects, but also the design of the infrastructure, the operation, and economic aspects, as well as acceptance in society. They painted a complete picture by evaluating previous experiences from national and international test operations, conducting literature research and surveying experts from a wide variety of areas (e.g. the law, vehicle manufacturers, transport operators, authorities).
The full article can be found here.
About PTV Group

PTV Group plans and optimises everything that moves people and goods worldwide in a safe, sustainable and efficient way. Every day people and goods are on the move. They all need to arrive punctually and safely while using the minimum of resources. A global challenge that PTV can help solve.