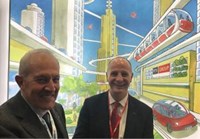 At the 2017 TRB (Transportation Research Board) Annual Meeting, PTV Group announced their latest recruit is to be Dr. Jaume Barceló, former TSS Co-Founder & Developer of Aimsun software and Emeritus Professor at UPC Barcelona, Spain.
Miller Crockart, PTV Group's Global Vice President Sales and Marketing, stated today, "PTV Group is creating an environment in which the greatest minds can find a home for their talents, energy and creativity when it comes developing the next generation of technologies and methodologies for the planning and optimization of the movement of both people and goods."
"With this, we have begun recruiting to PTV Group and our 'ecosystem' some of the brightest and the most illustrious people who also share our passion to drive the future of mobility," expressed Crockart.
Crockart continued, "To that end, it gives me the greatest pleasure to announce officially that Dr. Jaume Barceló, Emeritus Professor at UPC Barcelona, Spain and the founder, creator and brains behind the technology, algorithms and methodologies of the Aimsun software is to join PTV Group as a full-time Strategic Advisor."
Adding on to this, Crockart stated, "At PTV Group, we are creating a community of rather special people who will not concentrate on existing technologies or methodologies, such as micro- or macro-simulation, but will instead focus entirely on completely new, blue-sky thinking to develop what will be the next generation of methodologies and technologies for planning and optimization."
"This elite group will develop the next generation of software components that will also reside on the 'mega platforms' and 'city operating systems' needing to be developed rapidly in the near future. Jaume Barceló is to be a leading light of the blue skies team at PTV Group."
On a very personal note, Crockart further stated, "I have known Jaume personally for the last 15 years and a more knowledgeable, passionate for the subject matter, creative, humble, friendly and most importantly honourable and honest man you will not find in this industry. It is an honour for me personally and for PTV Group that Jaume has now found with us a suitable home to realize his undeniable and considerable talents."
About PTV Consult
PTV Group plans and optimises everything that moves people and goods worldwide – be it transport routes, distribution structures or private and public transport. The company offers software, data, content, consulting and research. Thanks to expert knowledge in traffic and transport planning, PTV occupies a unique position.
Environmentally-compatible and cost-effective mobility requires finely-tuned coordination of flows of traffic and goods, so that people and products can reach their destinations safely and efficiently. The focus here is on road safety, climate protection and future-proof mobility concepts. PTV solutions in transport logistics, traffic planning and traffic management help to achieve this, even in real time.
In the Logistics business field, PTV's portfolio ranges from software for scheduling transport routes and trips to distribution planning and fleet management, including truck navigation and parking. A special online service provides real-time transparency during the transport process and across the entire supply chain. In the Traffic business field, PTV offers software, data and scientific techniques for modelling and simulating traffic networks. This helps traffic and city planners in over 120 countries to organise optimal traffic flow.
PTV's headquarters have been located in Karlsruhe – a centre of innovation and development – since the company was founded in 1979. Around 600 employees around the world are working on powerful solutions for public administration, government departments, trade and industry.
The German company PTV Planung Transport Verkehr AG is a member of PTV Group.