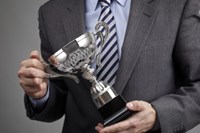 The business magazine brand eins Wissen and Statista have ranked PTV Transport Consult GmbH among Germany's top advisory firms in their 2016 industry report.
Excellent! This is how the specialist jury summed up PTV Transport Consult's expertise in the field of traffic, transport and logistics. The results were based on the analyses conducted by brand eins journalists and Statista, the world's leading statistics portal. PTV Transport Consult's experts landed on the 2016 list of top advisory firms – out of a total of 15,000 German consulting companies that were part of the survey.
Specialist knowledge and methodological expertise
The latest industry report "Management Consultants: Consulting 4.0" presents the crème de la crème and honours their specialist knowledge and methodological expertise in various subject areas. The list of the top consulting firms is based on a representative survey of experts (partners and project managers of management consultancies) and clients.
Thomas Ferrero, Managing Director of PTV Transport Consult, is particularly pleased about the excellent customer experience index scores. "This award is a milestone in our company history and a strong testament of our commitment to providing high-quality consulting services. We're just not a simple planning office, but we see ourselves as a competent partner in all transport-related issues."
The PTV Group company conducts surveys and develops solutions and concepts for traffic, transport, mobility, energy and the environment. Its wide range of services includes transport planning and traffic engineering, traffic management, road safety, tunnel equipment and operation, transport economics, public transport planning as well as passenger surveys and revenue allocation.
Projects for public and private clients in Germany and abroad are managed by a team of consultants based at the company's headquarters in Karlsruhe and by local teams in Berlin, Dresden, Düsseldorf, Munich and Stuttgart.
About PTV Consult
PTV Group plans and optimises everything that moves people and goods worldwide – be it transport routes, distribution structures or private and public transport. The company offers software, data, content, consulting and research. Thanks to expert knowledge in traffic and transport planning, PTV occupies a unique position.
Environmentally-compatible and cost-effective mobility requires finely-tuned coordination of flows of traffic and goods, so that people and products can reach their destinations safely and efficiently. The focus here is on road safety, climate protection and future-proof mobility concepts. PTV solutions in transport logistics, traffic planning and traffic management help to achieve this, even in real time.
In the Logistics business field, PTV's portfolio ranges from software for scheduling transport routes and trips to distribution planning and fleet management, including truck navigation and parking. A special online service provides real-time transparency during the transport process and across the entire supply chain. In the Traffic business field, PTV offers software, data and scientific techniques for modelling and simulating traffic networks. This helps traffic and city planners in over 120 countries to organise optimal traffic flow.
PTV's headquarters have been located in Karlsruhe – a centre of innovation and development – since the company was founded in 1979. Around 600 employees around the world are working on powerful solutions for public administration, government departments, trade and industry.
The German company PTV Planung Transport Verkehr AG is a member of PTV Group.