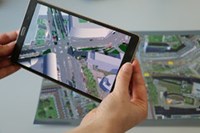 Transport ministers from over 50 countries are meeting at the International Transport Forum in Leipzig, Germany, from 31 May until 2 June. This year's main issue is to find an appropriate regulatory solution to promoting innovations, such as the integration of autonomous vehicles, while ensuring the safety of road users and citizens. Software solutions provided by PTV Group help model future scenarios of our mobility and allow us to evaluate new business models, such as mobility as a service.
We can test new mobility concepts virtually. In Leipzig, PTV will present a driving simulator in which visitors can test and see for themselves what the future in an autonomous vehicle would feel like. Another highlight at the PTV Group stand allows visitors to model, simulate and plan smart cities of tomorrow using virtual reality.
For four decades, PTV Group has developed technologies for planning and optimizing traffic and transport flows. Its software is used in over 2,500 cities worldwide.
The organiser of the annual International Transport Forum is the International Transport Forum (ITF) of the OECD, which considers itself a think tank for transport policy. As host of the event, German Transport Minister Alexander Dobrindt will officially open the International Transport Forum on the first day of the fair.
About PTV Group
PTV Group takes a holistic approach that integrates all aspects of traffic, transport and logistics to create and promote sustainable mobility. Recognised as global market leader, PTV develops intelligent software solutions for transport logistics, traffic planning and traffic management. Thus cities, companies and people save time and money, enhance road safety and minimise the impact on the environment. Based on its unique expertise in every facet of mobility, PTV ensures that people and goods arrive at their destinations safe and sound, and on time.
More than 2,500 cities deploy PTV products. Trips and routes for over one million vehicles are planned with our software. The European transport model, which encompasses all passenger transport and freight movements in Europe, is developed using PTV software. We currently have more than 700 colleagues worldwide committed to driving the high performance of our products. PTV's headquarters, located in the heart of the Karlsruhe technology region, house the company's centre of development and innovation. From here, PTV plans and optimises everything that moves people and goods worldwide – it's the central idea which has accompanied the Group since its foundation in 1979.
The German company PTV Planung Transport Verkehr AG is a member of PTV Group.