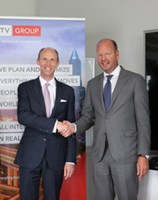 The mobility market is on the move. Today Porsche Automobil Holding SE (Porsche SE) announced the acquisition of the market's leading traffic and transport specialist, PTV Planung Transport Verkehr AG (PTV Group), for a purchase price in excess of 300 million euro. More than 700 mobility experts work for PTV Group worldwide. The company develops software and provides expertise for transport planning and logistics. The acquisition is part of a long-term investment strategy and Porsche SE sees considerable growth potential in the optimization of the flow of people and goods. And this is precisely where PTV's core competence lies.
PTV Group determined to continue on growth track
Vincent Kobesen, CEO of PTV Group, welcomes Porsche SE' entry. "We have now found the right strategic investor for our company. This allows us to remain independent and helps us reach our ambitious goals for the upcoming years." PTV Group has seen a positive revenue development and attained double-digit growth rates in the past few years. The company generated 93 million euro in the past fiscal year 2015/16 (ends on 31 March). The financial statements for 2016/17 will be presented very shortly. Kobesen adds: "For the first time in company history, we will cross the 100 million euro hurdle."
The experienced management team at PTV will continue to manage business operations. Further growth is projected.
There is currently a strong demand worldwide for state-of-the-art technology in the trendy sector of mobility. Over 2,500 cities already use PTV products. Over one million vehicles daily make transport runs planned with PTV software. PTV's traffic simulation software was used at the Olympic Games in London. And the European transport model, which encompasses all passenger transport and freight movements in Europe (EU Commission project Trimode), is developed using PTV software.
Vehicle manufacturers, service providers, logistics service providers, technology suppliers and urban planners are also interested in new mobility services such as MaaS (mobility as a service). PTV has developed a special program for MaaS that covers a whole portfolio of technologies – from planning MaaS operations to the operation and control of MaaS worldwide. PTV plans to make targeted investments in this forward-looking topic.
About Porsche SE
Porsche Automobil Holding SE is a listed holding company. It holds 52.2 percent of the ordinary shares in Volkswagen AG. In addition to this core investment, Porsche SE has a 10 percent investment in the US technology company INRIX and plans to acquire additional strategic investments along the automotive value chain. This comprises the entire spectrum of basic technologies geared to supporting the development and production process through to vehicle- and mobility-related services.
About PTV Group
The software provider based in Karlsruhe, Germany, has over 700 employees at 20 locations worldwide. PTV Group's software is used in over 120 countries. PTV Group takes a holistic approach that integrates all aspects of traffic, transport and logistics to create and promote sustainable mobility. Recognised as global market leader, PTV develops intelligent software solutions for transport logistics, traffic planning and traffic management. Thus cities, companies and people save time and money, enhance road safety and minimise the impact on the environment. Based on its unique expertise in every facet of mobility, PTV ensures that people and goods arrive at their destinations safe and sound, and on time.