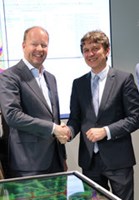 PTV Group and TNO, The Netherlands Organisation for Applied Scientific Research join forces to help cities resolve mobility, urban planning and environmental challenges. By combining PTV VISUM and Urban Strategy, PTV and TNO provide cities with a unique approach. Cities that face complex challenges in terms of congestion and air pollution are supported with fast insight and a decision-making platform. It enables them to test strategies and policies prior to implementation.
"You don't want to wait several days for your planning results", explains Leo Kusters, Managing Director Urbanisation at TNO. "The globally recognized transport modelling tool PTV Visum and our Urban Strategy solution form the perfect duo. Thanks to the automated interaction between several models we can now accelerate our transport and mobility mix applications, for better and faster results. All aspects, such as traffic, noise, air, safety, energy or costs, can now be taken into account. PTV delivers state-of-the-art technology for traffic modelling and simulation which is currently also used as the basis for the new transport model covering the entire transport of passengers and goods in Europe."
Implementation of Urban Strategy
The research organisation TNO was founded by the Dutch government to bridge the gap between academia, business community and government. Since then, TNO has been conducting research on behalf of public and private sector organisations in the field of urbanisation, industry, healthy living and defence, safety & security as well as energy.
In order to provide cities with interactive urban planning support, TNO has developed Urban Strategy that helps cities around the world manage the challenges they face.
The power of combined expertise
PTV plans and optimises everything that moves people and goods worldwide. Its transport experts are also very pleased about the new alliance. Vincent Kobesen, CEO of PTV Group says: "Our internationally recognized technology allows strategic consultants and decision makers to model and evaluate different urban scenarios with great reliability and accuracy. Cities and municipalities around the world will benefit from this joint approach which enables them to achieve a holistic view on their metropolitan area and to take effective measures."
About PTV Group
PTV Group takes a holistic approach that integrates all aspects of traffic, transport and logistics to create and promote sustainable mobility. Recognised as global market leader, PTV develops intelligent software solutions for transport logistics, traffic planning and traffic management. Thus cities, companies and people save time and money, enhance road safety and minimise the impact on the environment. Based on its unique expertise in every facet of mobility, PTV ensures that people and goods arrive at their destinations safe and sound, and on time.
More than 2,500 cities deploy PTV products. Trips and routes for over one million vehicles are planned with our software. The European transport model, which encompasses all passenger transport and freight movements in Europe, is developed using PTV software. We currently have more than 700 colleagues worldwide committed to driving the high performance of our products. PTV's headquarters, located in the heart of the Karlsruhe technology region, house the company's centre of development and innovation. From here, PTV plans and optimises everything that moves people and goods worldwide – it's the central idea which has accompanied the Group since its foundation in 1979.
The German company PTV Planung Transport Verkehr AG is a member of PTV Group.