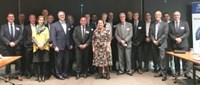 On June, 28th, the PTV Group, represented by Dr.-Ing. Thomas Schwerdtfeger, Managing Director PTV MENA Region DMCC and founder of PTV, and Professor Iven Mareels, Dean of the Melbourne School of Engineering at the University of Melbourne, signed a Memorandum of Understanding to cooperate on the subject of smart cities and smart mobility. The collaboration focusses on academic work and research, as well as on a number of initiatives and projects, such as the National Connected Multi-modal Transport (NCMT).
In the era of digital revolution, everything is inter-connected by communication. The advent of big data and analytics influence the shape of mobility and open new doors for high-tech solutions. To highlight the amazing opportunities that emerge from these changes and to be aware of the challenges, the industry and the academic world need to move closer together to benefit from each other. PTV Group and the University of Melbourne agreed on a long-term partnership to work together closely on the named topics.
"The city, as well as the University of Melbourne, is currently involved in different projects to show the world, that Melbourne is prepared for the future of transport," comments Miller Crockart, Vice President Traffic Sales and Marketing, on the latest news. "With the ITS World Congress coming up in October, the city of Melbourne is hosting one of the most important events in transport sector of the year. It's the right time to get engaged and to have significant impact on future technology."
Along with the vehicular evolution, new digitized mobility models are emerging such as the concept of shared mobility that will revolutionise not only the way of how people and goods will be moved – they will also change society as a whole. In doing so, cities are being made aware to the potential of such new mobility concepts and the changes they will bring.
Professor Iven Mareels is looking forward to working together closely: "By signing the Memorandum of Understanding, both parties agree on a collaboration that is oriented towards forward-looking technology. I strongly believe that we can bring innovative ideas to life using the best parts of our worlds – professionals that are keen on experiment and test and software that is the worldwide standard in software-based transport planning, traffic engineering and traffic simulation."
The Executive Transport Forum is hosted by the University of Melbourne. The committee meets twice a year to discuss transport issues and initiatives in Australia and Victoria in particular. In addition to PTV Group other well-known companies, including VicRoads, Telstra, Bosch Australia and Siemens Australia and others, are members of the forum to shape the transport structure of the continent and to prepare it for future influences.
About PTV Transport Consult
PTV Group plans and optimises everything that moves people and goods worldwide – be it transport routes, distribution structures or private and public transport. The company offers software, data, content, consulting and research. Thanks to expert knowledge in traffic and transport planning, PTV occupies a unique position.
Environmentally-compatible and cost-effective mobility requires finely-tuned coordination of flows of traffic and goods, so that people and products can reach their destinations safely and efficiently. The focus here is on road safety, climate protection and future-proof mobility concepts. PTV solutions in transport logistics, traffic planning and traffic management help to achieve this, even in real time.
In the Logistics business field, PTV's portfolio ranges from software for scheduling transport routes and trips to distribution planning and fleet management, including truck navigation and parking. A special online service provides real-time transparency during the transport process and across the entire supply chain. In the Traffic business field, PTV offers software, data and scientific techniques for modelling and simulating traffic networks. This helps traffic and city planners in over 120 countries to organise optimal traffic flow.
PTV's headquarters have been located in Karlsruhe – a centre of innovation and development – since the company was founded in 1979. Around 600 employees around the world are working on powerful solutions for public administration, government departments, trade and industry.