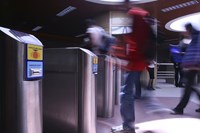 Switching between trains, buses, ferries and light rail will be cheaper from today, as Opal removes the penalty for customers who interchange between modes when travelling.
The new $2.00 'transfer discount' is now given every time an Adult Opal card customer changes a mode of transport as part of the same journey.
Opal card customers accessing concession fares will receive a transfer discount of $1.00 when they change mode on a journey.
Transport and Infrastructure Minister Andrew Constance said thousands of customers who interchange between modes will notice savings.
"We've always said we want as many people to use multiple forms of transport to get around, and removing the penalty for switching modes is the best way to encourage it," Mr Constance said.
"Ultimately now, in a lot of cases it will be cheaper to catch the bus to the station and then jump on the train. The fare reduces and you don't have to battle for parking. Although we're investing millions in commuter car parking, at many suburban stations demand outstrips supply.
"We're reducing the cost of interchanging as another incentive to catch public transport all the way and leave the car at home if possible."
Mr Constance said Opal card fares will remain frozen until July 2017 which means fares won't have increased on buses and light rail since January 2014 and on trains and ferries since January 2015.
"We've also made clear we're rebalancing the Opal weekly travel reward to replace free travel after 8 paid journeys, to half price fares. This still provides an incentive to catch public transport while ensuring we recoup some of the costs of providing extra services.
"With billions of dollars being invested in new metro and light rail lines, the new 'transfer discount' is all about encouraging the maximum use of all transport options as new services are delivered."
Transport for NSW
Transport for NSW is responsible for improving the customer experience, planning, program administration, policy, regulation, procuring transport services, infrastructure and freight. Transport operating agencies have been freed up to focus on service delivery – providing safe, reliable, clean and efficient transport services.