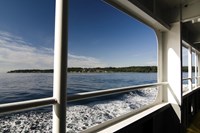 Q-Free has been awarded a new contract from Fjord1 for delivery of AutoPASS solutions for the Norwegian ferry connections Hareid-Sulesund and Magerholm-Sykkylven ("Sulapakken").
Including this award, Q-Free has received three orders from Fjord1 with a total value of 65 MNOK over the coming 8-10 years. The first two orders were received in 2016.
"The use of AutoPASS technology for large-scale automatic payment services for ferries is pioneering work made in close cooperation with the customer. Q-Free is excited about the opportunity to use its core tolling technology for new applications and sees numerous opportunities in the ferry market", comments President & CEO Håkon Volldal.
About Q-Free
Q-Free is a leading global supplier of ITS (Intelligent Transportation Systems) products and solutions. The company has approximately 420 employees, offices in 20 countries, and presence on all continents. Headquartered in Trondheim, Norway, Q-Free is listed on the Oslo Stock Exchange under the ticker QFR.