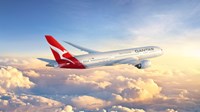 Qantas is set to add to its list of aviation firsts, with the national carrier confirming it will operate non-stop flights from Heathrow to Perth using the 787-9 Dreamliner.
The 14,498-kilometre service will be the first regular passenger service to directly link Europe to Australia when it begins in March 2018.
Qantas Group CEO Alan Joyce said the history-making flight would be a watershed for travel, tourism and trade. "When Qantas created the Kangaroo Route between London and Australia in 1947, it took four days and nine stops. Now it will take just 17 hours from Perth non-stop.
"This is a game-changing route flown by a game-changing aircraft. Travellers from Europe have never had a direct link down under before, so the opportunities this opens for them to explore Australia are huge."
Mr Joyce said passenger comfort on the 17-hour flight was a key consideration. "When we designed the interior of our 787s, we wanted to make sure passengers would be comfortable on the extended missions the aircraft was capable of.
"That's why we have features in our Economy seats that other airlines reserve for Premium Economy. Our Business Suite has been nicknamed 'mini First class' by many of our frequent flyers. And we're redesigning our on-board service to help reduce jetlag," he added.
The enhanced Qantas cabin design is in addition to the comfort factors that Boeing built in to the Dreamliner – improved air quality, lower cabin noise and technology to reduce turbulence. Mr Joyce said the direct route is expected to appeal to European travellers who want a non-stop link to Australia and will see Australian travellers from across the country hub through Perth to London, boosting tourism in both directions.
"A direct flight makes travelling from the UK to Australia a much more attractive proposition to millions of people. We expect many travellers from Europe will start their time in Australia with a visit to Perth before going on to see other parts of the country."
Seats on the London-Perth flights will go on sale in April 2017 for the first services in March 2018. The Boeing 787-9 Dreamliners used on the route will carry 236 passengers across Business, Premium Economy and Economy cabins.
About Heathrow Airport
Heathrow is the UK's premier international airport. From here, some 80 airlines fly direct to over 180 destinations worldwide.