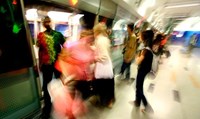 In the Stavanger region at Norway's southwestern coast, mobile video protection and automatic passenger counting (APC) made by r2p will offer even more comfort and security to public transport passengers. Norgesbuss AS has chosen the solution designed in Flensburg that will be implemented in more than 100 local and long-distance buses. Thanks to the comprehensive HORIZON software platform, the operator gains extended functionalities for both system components, CCTV and APC. APC data download can be automated, as well as status management for current and future modules.
Flemming Kær, Sales and Marketing Director at r2p, is delighted about Norgesbuss' decision in favor of the German-Danish company group: "This order shows that our innovative solutions are well accepted by operators and PTA´s in Scandinavia. An important step for our activities in the Nordic countries!"
Norgesbuss AS is one of the leading players in Norwegian Public Transport, with an annual turnover of 1'000 million NOK (more than 103 million €). The company disposes over 500 buses and employs ca. 1'100 people.
The rapidly growing r2p group, headquartered in Flensburg, Germany, operates internationally in 27 countries with subsidiaries in Denmark and Brazil. The group cooperates closely with a partner company in Taiwan, a sales office in the United Kingdom, and local manufacturing in India.
As a market leader, we develop and distribute software and hardware for rail and road vehicles, mobile video surveillance and telemetric solutions with great passion. Our experienced Swedish investor, Alder AB, with a total investment of more than 110 million euro, provides us with ongoing support for our mission.
About Rail and Road Protec GmbH
r2p – Rail and Road Protec GmbH has its headquarters in Northern Germany, close to the Danish border. We develop and sell intelligent technology systems for the mobile sector with highest quality standards: CCTV, passenger counting, Infotainment and fleet management with real-time data transfer for rail and road vehicles. Through our idea our customers need only little hardware for an optimized solution, which is economical and ecologically beneficial at the same time.
Our closeness to the Scandinavia is also reflected in our committed German-Danish team. We are passionate about our work. Our goal is to capture the international market with our core competences mobile CCTV and telematics, backed up by our Swedish investors, the Alder AB, who have an overall investment potential of 110 million Euro. In the railway sector alone, the Alder Group - together with r2p - has an annual turnover of 55 million Euro.