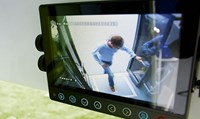 r2p and the Colombian Busscar Group have entered into an agreement for a strategic partnership. After exploring the Brazilian market, including setting up r2p Brazil Paricipações Ltda. with a strong r2p team, r2p is proud to take the next logical step on the South American continent: Providing the r2p innovative, yet dependable equipment from CCTV, passenger counting to fleet management and data hosting to the Busscar Group who will install the r2p technology to selected clients directly into the busses from their manufacturing plant.
The Busscar Group is the largest bus manufacturer in Colombia. With over 1'800 employees and three own production lines, Busscar manufactures around 4'000 vehicle units per year and exports throughout South America.
"We are very much looking forward to this cooperation, which has been more than pleasant since our initial discussions starting around a year ago. That our business cultures are different only benefits our relationship, where we learn from each other personally and in business context", states content r2p CEO, Ulrik Ortiz Rasmussen. "We are proud that one of South America's strongest bus manufacturers has chosen our product portfolio platform. "
The rapidly growing r2p Group, headquartered in Flensburg, Germany, operates internationally in 27 countries with subsidiaries in Denmark and Brazil. It has a further close cooperation in Taiwan, a sales office in the United Kingdom, and local manufacturing in India.
As a market leader, we develop and distribute software and hardware for rail and road vehicles, mobile video surveillance and telemetric solutions with great passion. Our experienced Swedish investor, Alder AB, with a total investment of more than 110 million euro, provides us with ongoing support for our mission.
About Rail and Road Protec GmbH
r2p – Rail and Road Protec GmbH has its headquarters in Northern Germany, close to the Danish border. We develop and sell intelligent technology systems for the mobile sector with highest quality standards: CCTV, passenger counting, Infotainment and fleet management with real-time data transfer for rail and road vehicles. Through our idea our customers need only little hardware for an optimized solution, which is economical and ecologically beneficial at the same time.
Our closeness to the Scandinavia is also reflected in our committed German-Danish team. We are passionate about our work. Our goal is to capture the international market with our core competences mobile CCTV and telematics, backed up by our Swedish investors, the Alder AB, who have an overall investment potential of 110 million Euro. In the railway sector alone, the Alder Group - together with r2p - has an annual turnover of 55 million Euro.