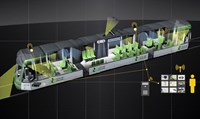 As early as 2012, r2p was engaged by Stadler Pankow GmbH to develop a concept for the substitution of existing systems that have passed their prime – without undue transaction costs, while at the same time being innovative and future-oriented.
After having implemented the concept successfully, r2p was again chosen by Stadler to keep on following this promising pathway. The order encompasses the delivery of recorders, driver and rear view mirror system monitors, saloon cameras and Driver Only Operation cameras substituting rear mirrors. It constitutes one of the most extensive new procurement order placed by the successful rail manufacturer. Stadler Pankow GmbH will deliver a total of 42 Variobahn trains to the Bochum-Gelsenkirchener Straßenbahnen Aktiengesellschaft (BOGESTRA) between 2016 and 2020, with an option on eight additional vehicles. With this delivery, BOGESTRA will dispose of the largest fleet of Stadler's Variobahn among all public transport operators. The first trains are to be delivered already in Q 3-4/2016 – a record-breaking short time span between the placement of order and delivery that stirs also r2p's ambition.
René Seliger, Shareholder and Project Director at r2p, says: "We are very proud to contribute with a solid concept and innovative products to the largest Variobahn-fleet combined at one operator."
The rapidly growing r2p Group, headquartered in Flensburg, Germany, operates internationally in 27 countries with subsidiaries in Denmark and Brazil. The group cooperates closely with a partner company in Taiwan, a sales office in the United Kingdom, and local manufacturing in India.
As a market leader, we develop and distribute software and hardware for rail and road vehicles, mobile video surveillance and telemetric solutions with great passion. Our experienced Swedish investor, Alder AB, with a total investment of more than 110 million euro, provides us with ongoing support for our mission.
About Rail and Road Protec GmbH
r2p – Rail and Road Protec GmbH has its headquarters in Northern Germany, close to the Danish border. We develop and sell intelligent technology systems for the mobile sector with highest quality standards: CCTV, passenger counting, Infotainment and fleet management with real-time data transfer for rail and road vehicles. Through our idea our customers need only little hardware for an optimized solution, which is economical and ecologically beneficial at the same time.
Our closeness to the Scandinavia is also reflected in our committed German-Danish team. We are passionate about our work. Our goal is to capture the international market with our core competences mobile CCTV and telematics, backed up by our Swedish investors, the Alder AB, who have an overall investment potential of 110 million Euro. In the railway sector alone, the Alder Group - together with r2p - has an annual turnover of 55 million Euro.