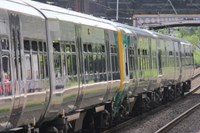 Porterbrook Leasing Company Ltd has selected r2p Rail & Road Protec GmbH to supply the industry leading modern technology on-train CCTV system. The new CCTV system includes new Forward Facing, saloon and 360 degree cameras in all vestibules with an automated download of CCTV.
Porterbrook is one of the three major rolling stock leasing companies in the UK specialising in the leasing of railway rolling stock to Train Operating companies (TOCs). Porterbrook's aim is to continually invest in their fleets along with procuring new trains and associated equipment to support the UK rail industry in improving reliability, availability and safety characteristics by working closely with the train operators and suppliers to identify opportunities.
r2p has worked closely with Porterbrook, Abellio ScotRail to advise the best CCTV solution for their trains. Wabtec Rail Scotland has started to install the new CCTV system at Kilmarnock, Scotland. Balvinder Chana, r2p Director UK commented: "We are pleased that after competitive analysis of the suppliers Porterbrook has decided to select r2p to supply CCTV systems for their ScotRail fleet. This is the result of a close working partnership between r2p, Porterbrook, and Abellio ScotRail. We are pleased that Porterbrook has selected r2p as the preferred supplier of this CCTV solution."
Commenting on the contract award, Ulrik Rasmussen, Managing Director r2p, said "This is a further important milestone for r2p in the UK rail market to strengthen our position as the strongest supplier of CCTV solutions in the rail market. r2p is highly committed to the UK rail market and we have won a significant number of contracts from UK rail companies."
Shane Duffy, Head of Supplier Management and Business Development for Porterbrook Leasing Company said "We are pleased to have selected r2p as the CCTV supplier for our ScotRail Turbostar fleet. The quality and fully functioning on-train systems are important to our customers and r2p will provide us and our customers with all the support we require in this key area."
About r2p Group
The rapidly growing r2p Group, headquartered in Flensburg, Germany, operates internationally in 27 countries with subsidiaries in Denmark and Brazil. The group cooperates closely with a partner company in Taiwan, a sales office in the United Kingdom, and local manufacturing in India.
As a market leader, we develop and distribute software and hardware for rail and road vehicles, mobile video surveillance and telemetric solutions with great passion. Our experienced Swedish investor, Alder AB, with a total annual turnover of more than 200 million euro, provides us with ongoing support for our mission.