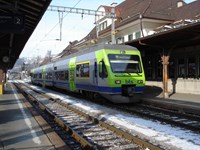 r2p won a tender of BLS AG for a refurbishment (REFIT) of the onboard CCTV systems. With the new order, r2p will supply CCTV equipment for 61 rail vehicles of the type RABe 525/535, which are going to be operated by BLS in Switzerland. The plug-and-play technology was developed according to customer specifications to meet the high demands of BLS.
René Seliger (Project Director & Shareholder of r2p) is looking forward to a long-term partnership and says: "With this tender r2p has proven once again that the focus to customize our products to the demands and requirements from our clients will create significant value for both sides. Our client will receive a product which enables the system to be easily integrated in the client's organisation and r2p enters in a new long-term collaboration with a client. We are very happy that we have been chosen as a supplier for BLS."
The rapidly growing r2p Group, headquartered in Flensburg, Germany, operates internationally in 45 countries with subsidiaries in Denmark, England, Switzerland and Brazil. With a silent partnership in Taiwan, a sales office in the Czech Republic and local manufacturing in India, r2p takes pride in being a truly global company.
As a market leader, r2p has great passion and energy for developing and distributing software and hardware for rail and road vehicles, mobile video surveillance, PIS, PA, APC and telemetric solutions. Our experienced Swedish investor Alder AB, with an investment volume of more than €110 million, provides us with on-going support for our mission.
About r2p
The r2p GmbH has its headquarters in Northern Germany, close to the Danish border. We develop and sell intelligent technology systems with the highest quality standards for the mobile transport sector: CCTV, passenger counting, Infotainment and fleet management with real-time data transfer for rail and road vehicles. Our customers benefit directly from our ideas, with perfectly optimised solutions that require minimal hardware - meaning the economical and ecological benefits are maximised. Our geographical proximity to Denmark is reflected in our committed and dynamic German-Danish team. We are passionate about our work and our goal is to capture the international market with our core competencies: mobile CCTV and telematics. We are backed by our Swedish investors, Alder AB, who have an overall investment potential of €110 million. In the railway sector alone, the Alder Group - together with r2p - has an annual turnover of €55 million.