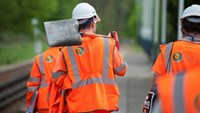 An agreement has been reached for ATEC Rail Group (ARG) to acquire 100 per cent of the issued share capital of Global Infrastructure Group (GIG).
Established in 2001 in the UK and Ireland, GIG has built a significant footprint in Australia, with core capabilities in the provision of rail infrastructure design and build and telecommunication network maintenance services.
ARG, based in Brisbane, Australia, develops and manages open access freight railways for the country's bulk commodity industries.
ARG managing director John Balassis said the takeover complements its purchase of rail services business Traxion in 2017 and provides further growth across all three markets of UK, Ireland and Australia.
He added: "Global Infrastructure Group will provide additional avenues to expand our rail services business with existing partners, and greater opportunities for spur line investment, train load-out investment and rail infrastructure enhancements and management."
Balassis said GIG's 450 employees, its clients and supply chain partners will continue to remain at the forefront of the business post acquisition.
He also confirmed that the existing brand, workforce and leadership team will remain in place.
He added: "Combining GIG's long track record of successfully delivering rail and telecommunication network projects, together with ARG's appetite for brownfield and greenfield rail network investment, provides the expanded business with myriad opportunities for continued growth and expansion."
The acquisition is expected to be completed by August, 31, 2018.
About Global Rail News

The Global Rail News team of journalists provide daily updates about the rail industry worldwide, from the awarding of orders for new fleets of trains to the completion of major infrastructure projects. Through a weekly newsletter, we provide news and analysis directly to thousands of subscribers in all corners of the world.