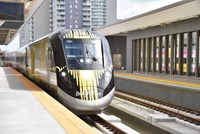 Brightline has announced the acquisition of XpressWest, a high-speed passenger rail project with rights to develop a federally-approved corridor connecting Southern California and Las Vegas, Nevada.
This project is set to be the second privately-funded express intercity passenger rail in the United States following Brightline's Florida corridor.
According to Brightline's ridership studies, travelers make more than 50 million annual trips between Las Vegas and Southern California. Today travelers are limited to traveling by air or car but Brightline expects to offer an alternative to connect the two in less than two hours.
As a result of the XpressWest acquisition, Brightline will take over the development, construction and operation of the project and work with federal and local transportation officials to connect Las Vegas with Victorville, California, with future plans to expand into the Los Angeles area.
The first phase of the corridor is expected to be built on a right of way within and adjacent to Interstate 15, traversing 185 miles with no at-grade or pedestrian crossings.
Construction is expected to begin next year and Brightline is planning to begin initial services in 2022.
The planned Las Vegas station is expected to be located within the resort corridor and will be a major intermodal hub. As part of the project, Brightline is acquiring approximately 38 acres of land adjacent to the Las Vegas strip for construction of the station and mixed-used development.
The first planned Southern California station is expected to be located in Victorville within a 30- to 45-minute drive of the approximately four to five million people who live in the Inland Empire and eastern Los Angeles County, and within close proximity to Southern California's remaining 17 to 18 million residents. Planning for additional stations and connectivity to California Metrolink and eventually California High-Speed Rail is underway.
Brightline said it will continue to explore other intercity rail opportunities across North America.
About Global Rail News

The Global Rail News team of journalists provide daily updates about the rail industry worldwide, from the awarding of orders for new fleets of trains to the completion of major infrastructure projects. Through a weekly newsletter, we provide news and analysis directly to thousands of subscribers in all corners of the world.