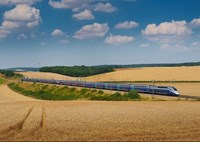 The EU's current strategy for high-speed rail will struggle to achieve its long-term targets and has resulted in a 'patchwork' of poorly connected national networks, according to a report by the European Court of Auditors (ECA).
Having analysed the spending on more than 5,000 km of high-speed lines across six member states (France, Spain, Italy, Germany, Portugal and Austria), the ECA said it did not believe the target of tripling the length of high-speed railway across the EU to 30,000 km by 2030 would be achieved.
Although the EU has contributed €23.7 billion of co-funding for high-speed rail projects since 2000, the European Commission has no powers to encourage member states to progress the construction of the core European network.
Oskar Herics, who was responsible for the report, said: "An ineffective patchwork of poorly connected national lines has been constructed."
He added: "High-speed lines crossing national borders do not rank among national priorities for construction and the commission has no power to enforce them. This means the added value of EU co-funding is low."
The report highlighted some of the issues faced by existing high-speed corridors. These included project delays and cost overruns, high cost per km, low passenger numbers and low average speeds relative to the design speeds.
The ECA also said urgent action was needed to lift the barriers that still block rail interoperability, pointing to the fact that France and Spain are still to open their passenger rail markets.
Recommendations included setting 'realistic' long-term plans and working with member states to identify which routes should be delivered first. The ECA believes the EU should also have enforceable powers to make sure member states are meeting their commitments to build the core network.
The ECA felt there was a need to simplify cross-border tendering to improve competition and introduce measures such as e-ticketing and simplified track access charges.
About
Global Rail News

Global Rail News is updated throughout the day with news, views and features, covering industry and project developments around the world. Global Rail News is part of Rail Media. This website is run by RailStaff Publications Limited, a Rail Media Company and is in no way associated with Railnews Limited.