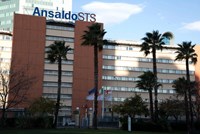 Hitachi has signalled its intent to take full control of Ansaldo STS following an agreement to increase its stake.
In an announcement on October 29, Hitachi and Hitachi Rail Italy Investments said they have signed an agreement with Elliott to acquire its 32 per cent stake in the company, which designs and constructs rail equipment and systems dedicated to signalling and automation. The transaction has a total value of €808 million and is expected to be completed on November 2.
Alistair Dormer, CEO of Hitachi Rail Europe, said: "This acquisition of shares is a further key milestone towards realising our ambition of becoming a global leader in total rail solutions".
About Global Rail News

Global Rail News is updated regularly with news, views and features, covering industry and project developments around the world. Global Rail News is part of Rail Media. This website is run by RailStaff Publications Limited, a Rail Media Company and is in no way associated with Railnews Limited.