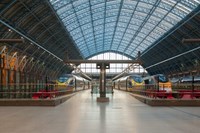 The owner and operator of the UK's first high-speed line has revealed it is in advanced discussions with three international operators to launch a direct high-speed train from London to Bordeaux.
HS1 Ltd, Lisea, Eurotunnel and SNCF Réseau are working on agreed timetable slots and train routes and hope that a new international train operator will be able to get the route up and running "in a couple of years".
Currently, passengers travelling from London to Bordeaux have to change trains in Paris, meaning a journey time of around 6 hours and 30 minutes, including the connection time in the French capital.
By using the new 302km-long Southern Europe Atlantic high-speed line – which opened in July, 2017 between Tours and Paris – the direct route will connect the two cities in less than five hours under the new plans.
A spokesperson for HS1 Ltd said that the direct route will be able to take on low cost airlines, which currently fly 1.2 million passengers per year between the two destinations.
HS1 Ltd CEO Dyan Crowther added: "As we've seen with the recent introduction of the Eurostar London-Amsterdam service, there's a real demand for international train services to provide a comfortable and better-connected service, especially for leisure journeys."
"This is the first time that railway operators have collaborated in this way and saves the train operator having to do a lot of legwork. The route is almost ready for a train operator to turn up and turn the key as soon as the UK and French Governments agree on border controls."
"With the right commitment, we could be looking at new services in the next couple of years."
HS1 Ltd, Lisea, Eurotunnel and SNCF Réseau, the four infrastructure managers along the route, met in Bordeaux on April 25 to discuss developing Gare de Bordeaux-Saint-Jean station to facilitate international departures and to identify potential departure slots, cooperation with authorities and train paths.
HS1 is also in discussions with operators to launch routes to Frankfurt and Geneva and has appointed a new market development lead, Edmund Butcher, to develop these plans.
About Rail Media
Rail Media creates opportunities to connect – whether it's connecting you to industry news, with like-minded professionals or even with that ideal candidate for a role in your company. They keep you connected with the latest developments and projects within the industry, through reading one of our magazines or by attending one of our many events.