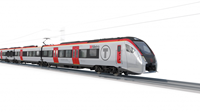 The First Minister of Wales, Carwyn Jones, has described today as an important moment for devolution, welcoming KeolisAmey as the new operator of rail services for Wales and Borders.
KeolisAmey took over in the early hours of yesterday morning (October 14) from Arriva Trains Wales, which has held the franchise since 2003.
The new franchise will run for 15 years and includes a £5 billion investment, including £800 million on new trains.
Transport for Wales has committed to creating 600 new jobs and 450 apprenticeships over the life of the contract.
In a statement released by Transport for Wales ahead of a launch event at Pontypridd station, Carwyn Jones said: "This is an important moment for rail in Wales – indeed for devolution itself."
"Led by Transport for Wales with our partners KeolisAmey this will be the very first 'made in Wales' rail service, designed and delivered by the Welsh Government."
"The opportunity to re-design and re-purpose our railway network in Wales is a once in a generation opportunity and I am confident that by 2033 it can be the best passenger rail service in the UK."
"The chance to develop an integrated transport system that encourages economic growth and better supports our public services is supported across all political parties, and the opportunities to develop Metro systems here in South East Wales, in the North East and around Swansea Bay are drawing attention from across the globe."
About Global Rail News

The Global Rail News team of journalists provide daily updates about the rail industry worldwide, from the awarding of orders for new fleets of trains to the completion of major infrastructure projects. Through a weekly newsletter, we provide news and analysis directly to thousands of subscribers in all corners of the world.