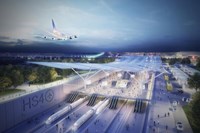 Developers are submitting plans for a new high-speed line to the UK's Department for Transport (DfT) in response to a call for market-led proposals.
Named 'HS4Air', the proposed £10 billion railway will connect HS1 at Ashford to HS2 North West of London with stops at Heathrow and Gatwick airports and a spur connection to the Great Western main line (See map below).
New stations would be built at Ashford, Tonbridge, Gatwick and Heathrow if the scheme gets the go ahead, with improved connectivity providing a "boost for regional economies from South East England to Northern England."
The rail route would minimise its environmental impact by following the M25 west of London, tunnelling under sensitive rural environments and re-using and upgrading the existing railway between Ashford and Tonbridge.
By connecting Britain's two high-speed lines to the west of the capital, developers say HS4Air will remove an historic barrier between regions north and west of London to mainland Europe.
And by taking passengers and freight out of London that does not need to pass through, HS4Air is expected to release capacity on the congested London rail network.
The idea for the new high-speed line has been developed by Expedition Engineering with architects Weston Williamson + Partners (WW+P) and consultants Turley.
According to the development team, HS4Air will reduce journey times as follows:
Ashford-Gatwick: 25 minutes (Currently 1 hour 50 mins);
Manchester-Heathrow: 1 hour 10 mins (Currently 3 hours 20 mins);
Heathrow-Gatwick: 15 minutes;
Cardiff-Heathrow: 1 hour 40 mins (Currently 2 hours 50 mins);
Birmingham-Paris: 3 hours (Currently 3 hours 50 minutes by air).
WW+P associate partner Nick McGough said: "HS4Air takes the problem of linking HS1 with HS2 and turns it into an opportunity in by-passing London entirely whilst better connecting the UK's two largest airports and the country generally through high speed rail."
"It is exciting that the DfT's Rail Market Led Proposal initiative opens the door for this sort of innovative proposal. HS4Air can help unlock opportunities for much needed housing in the South East through joined-up and sustainable infrastructure development."
About Global Rail News

Global Rail News is updated throughout the day with news, views and features, covering industry and project developments around the world. Global Rail News is part of Rail Media. This website is run by RailStaff Publications Limited, a Rail Media Company and is in no way associated with Railnews Limited.